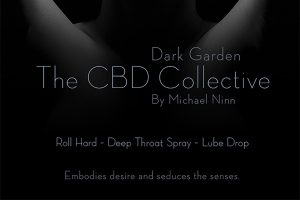 Las Vegas, NV — Items from the Dark Garden Collective, a new line of CBD-infused intimate products created by auteur Michael Ninn, are now available.
Available exclusively through itsthebomb.com, the Dark Garden Collective includes three products: a water-based, unscented CBD Lube Drop; a CBD Peppermint Deep Throat Spray; and an erection enhancement roll-on product, CBD Roll Hard. Each item retails for $49.99 or may be bought in a set for $145.99.
The human body has millions of cannabinoid receptors — endocannabinoid system — in the brain and nervous system. When humans use plant-based CBD oil, it effectively boosts the function of the endocannabinoid system. The natural physical response to CBD's chemical components helps relieve anxiety, improve mood, enhance circulation and treat inflammation, among many other health benefits.
"CBD has the ability to increase intimacy between partners by reducing stress and increasing physical desire and performance in both men and women, which leads to prolonged personal enjoyment. All three products are designed to work together, yet each brings its own unique attribute to create an amazing night of pleasure and healing," Ninn explained.
Each USDA-certified offering in the collection contains 250 milligrams of CBD derived from hemp oil mixed with a range of all-natural components, including mint and peppermint extracts, aloe gel, goldenrod and agave nectar.