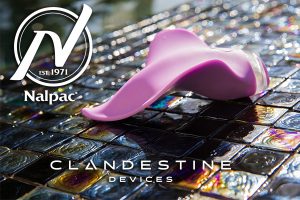 Ferndale, MI – Adult distributor Nalpac is now stocking and shipping the multi-award winning pleasure product, MIMIC by Clandestine Devices.
The MIMIC, a thoughtfully designed vibrator that has comfort and pleasure in mind, has been written up in several mainstream media outlets including Marie Claire, Cosmopolitan, Glamour and more. Nalpac is shipping all three available colors: Lilac, Seafoam and Black.
"The MIMIC is one of the most unique products that has ever been introduced into the market. Both the item and packaging look amazing on retail shelves. We have recently had a lot of interest from our customers about the product and are excited to be able to offer this great item in all three colors," said Don Zerilli, Nalpac's Senior Buyer.
Learn more about MIMIC here: http://www.nalpac.us/portfolio/mimic-sex-toy/
"We are just thrilled to add Nalpac to our powerhouse roster of wonderful partners!" said Kimberly Scott Faubel, Clandestine Devices' Director of Operations.
"This exciting new partnership will deliver the MIMIC into the hands of even more retailers and consumers and, with Nalpac's incredible support, we can continue our journey toward making Clandestine Devices a household name. We couldn't be more pleased about what the future holds," Faubel added.