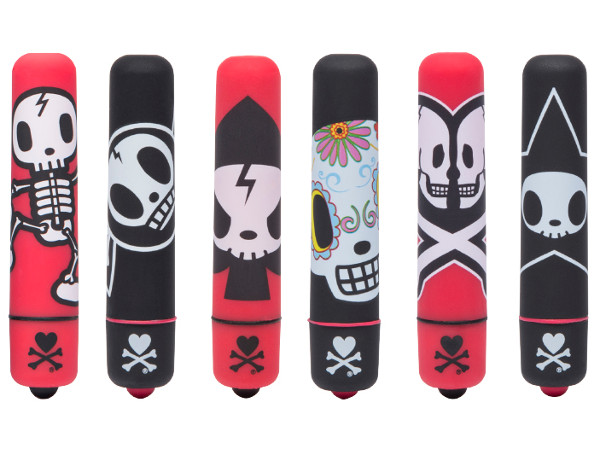 BATH, England – "Le petit morte." Translated literally, the French euphemism for orgasm means "the little death." A new series of mini-vibes in tokidoki x Lovehoney – the Official Pleasure Collection shines a whole new light on the expression.
The new line incorporates skeletons, skulls and a Dia de los Muertos-inspired design. Though the six bullet vibrators were created for Halloween and Day of the Dead festivities in October and November, Lovehoney expects them to prove popular year-round.
tokidoki x Lovehoney – The Official Pleasure Collection is a fun, colorful collaboration between the British sex toy retailer and manufacturer and the cult fashion-forward brand established in Rome. The range features bullets, vibrators and male strokers emblazoned with "kawaii"-style characters; all have proved especially popular with the 18- to 25-year-old demographic.
Eye-catching and colorful point-of-sale collateral complements the collection. The pack consists of shelf wobblers, a header, footer, bus-stops and two shelving units for tester products. Once assembled the unit can hold the range in its entirety, but retailers have the option to tailor the display to fit their stock.
Lovehoney will debut the new mini-vibes during the ANME Founders show July 16-18 in Burbank, Calif.
"We always get a great reaction to our tokidoki x Lovehoney toys and, with these brand new mini vibes being so different to the Series 1 and Series 2 collections, we think they will also attract a lot of attention, especially with those retailers having Halloween festivities in mind," said Lovehoney International Sales Manager Kate Hodgson-Egan, who will attend the show. "Not only will we be promoting the fantastic new range of mini vibes at the ANME show, but the impressive range of POS that will increase sales and encourage footfall into stores.
"We are really proud of what we've created for tokidoki x Lovehoney, and we can't wait to show off the brand-new series and supporting POS," she added.
For more information about the tokidoki x Lovehoney collection, visit LovehoneyTrade.com. To set up a meeting during ANME, email mailto:tradeenquiries@lovehoney.co.uk.