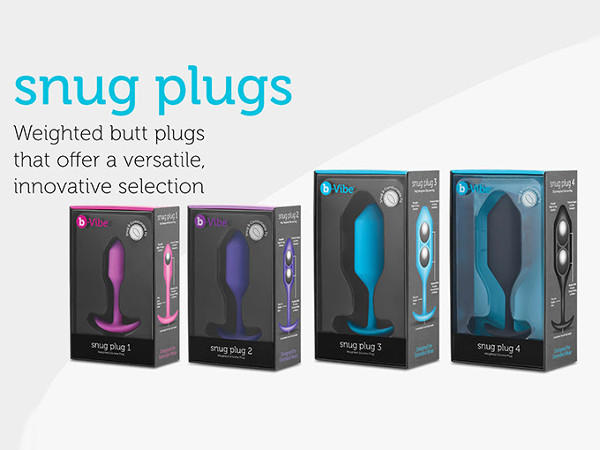 LOS ANGELES – Snug Plugs, the latest addition to b-Vibe's lineup of premium anal toys, comprise a series of four non-vibrating, weighted butt plugs offering versatility at an affordable price point.
"Retailing for $55 and under, Snug Plugs will appeal to those customers that might have been hesitant to pay for a luxury toy," b-Vibe founder and Managing Director Alicia Sinclair said. "With these price points, b-Vibe is fleshing out the premium anal toys category so there is an opportunity to experience our products in many price points. Additionally, the diversity in product selection and price points allows retailers to build an entire premium anal section to shop."
Available in four sizes, Snug Plugs are specifically designed for long-wear comfort, Sinclair said. The plugs feature soft ridges that stimulate internally, while their weight provides a feeling of fullness.
Snug Plugs can be worn during partner sex or enjoyed discreetly for extended-wear stimulation. Each plug is made of body-safe, seamless silicone and features a thin, flexible neck and smooth-grip handle.
Snug Plugs come in detailed packaging that contains two guides for anal-play newbies: b-Vibe's Guide to Anal, which is packed with information about anal play, and an additional booklet providing instruction in how to use butt plugs.
"b-Vibe is really owning the anal category, not just with premium items but by being a sex-positive, educational resource for consumers," Sinclair said. "We hope that by providing a wealth of information, we are drawing a wider audience and building brand loyalty."
The new range of Snug Plugs 1-4 are set to ship in August.
For more information, visit bVibe.com or email sales@bvibe.com.