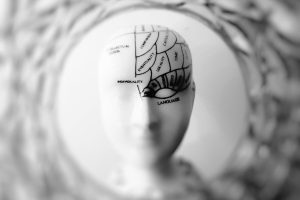 On a recent episode of the "Smart Sex, Smart Love" podcast hosted by Joe Kort, PhD, neuroscientist Nicole Prause, PhD, let loose on the pseudo-science of "porn addiction." The lucrative sex- and porn-addiction treatment industry, as well as anti-porn politicians and activists, like those behind FighttheNewDrug.com, have been telling the public things like, "Porn impacts the brain like a drug. Porn can be addictive."
These scare tactics have sent thousands of individuals into expensive treatment programs to try to beat their habit, scared a growing number of states in America to declare pornography a "public health crisis," and even led to #NoFapNovember—a trending anti-porn campaign.
But Dr. Prause, who researches sexual behavior in humans, the physiology of sexual response, and addiction, is the founder of Liberos, an independent research institute dedicated to researching human sexuality. And she told Kort that, in her years of studying sex and the brain, she and other researchers in her field have found no evidence that human brains respond to porn the same way they do to truly addictive substances.
First of all, she said, the brain just doesn't respond to porn like it would to an addictive substance. "The biomarker of addiction is commonly found in substance addiction. It basically means your brain orients more strongly to the substance or behavior to which you're addicted than other stimuli that we're presenting you within the laboratory," she explained. "So, if you are addicted to pornography, and we showed you pornographic images, we would expect that your brain would respond more strongly to those images than other people who viewed these images and do not report having a problem. We actually found the opposite." 
Simply put, she said, the brain activity "that needs to be there for an addiction does not exist with respect to pornography."
Period.
That's not to say that there aren't individuals with issues around pornography, of course. Prause speculated that individuals with depression or obsessive-compulsive issues, for instance, might use porn as a coping mechanism that interferes with their lives. However, she said, "These individuals could benefit from therapy to help cope with their real issues. Watching porn isn't the issue." 
In the reams upon reams of literature on so-called porn addiction, Prause added, "We often see people say, 'The dopamine hijacks the brain. It comes in, you get flooded with dopamine.'" But, she warned, "Words like 'flooded' or 'hijacked' are a good way to know you're reading pseudo-science. We don't generally use those words in science."
You can listen to the whole podcast here or read Dr. Kort's writeup in Psychology Today for more details.