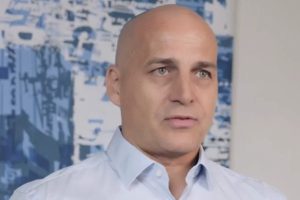 LOS ANGELES – In a video report published yesterday on NBCLosAngeles.com, several current and former adult performers made a variety of allegations concerning the conduct of adult entertainment talent agent Derek Hay and his agency, LA Direct Models.
Those interviewed by Dan Przygoda on camera for the report include Adria Rae, Bunny Colby, Lydia Dupra, Hadley Viscara, Lisa Ann, all of whom have been models on the LA Direct roster at some point in their careers. In addition to being under contract to LA Direct as a performer, Lisa Ann also briefly worked as an agent for LA Direct during a pause in her career as a performer.
In Przygoda's report, the women describe a coercive environment at LA Direct, claim the agency illegally "double-dipped" by charging their clients both commissions and booking fees and assert that Hay is connected to escort services (the escort service "The Luxury Companion," specifically), among other accusations. Viscara accuses Hay of sexual assault as well, describing an alleged incident at Hay's Las Vegas home in which he began to penetrate her without consent, but relented when she told him to stop.
The investigation which led to the report appears to have been spurred on in part by a complaint filed against Hay with the California Labor Commissioner last June. The complaint was filed on behalf of four "Jane Doe" petitioners by attorney Allan Gelbard.
In the complaint, among other claims, the petitioners allege that Hay "unlawfully employs multi-page contracts, only a single page of which he submits for approval by the Labor Commission, to 'lock-up' performers for many years."
"These contracts provide for additional and unconscionable fees and penalties which he then coerces performers to either pay in cash, or 'work-off' by performing sexual acts on him," the complaint further alleges. "Hay wilfully breaches his fiduciary duty to his clients by requiring producers to pay amounts in excess of his clients' agreed upon fees (hereinafter referred to as "Agency Fees") for the opportunity to hire his clients in the first place; and then fails to pay his clients their contractually obligated share of these fees which are directly related to their employment."
In an article which accompanied the video report, Przygoda stated that NBC "spoke to 26 current and former adult film performers and other agents who made allegations similar to those contained in the complaints to the labor commissioner."
"Many said they were afraid to come forward because they feared retaliation," Przygoda added.
Near the end of the video report, on-screen text states: "We made repeated attempts to interview Derek Hay on-camera for this documentary. He initially indicated he would be open to the interview if we agreed to a set of pre-conditions, such as that no single answer could be edited and must be shown in full. We could not agree to these pre-conditions as we cannot relinquish editorial control to one of the subjects of our reporting."
In lieu of being interviewed on camera by NBC, Hay has released a video response of his own on Vimeo. In his response, Hay denies many of the allegations made against him in the NBC report, while explaining away others as universally-accepted business practices within the adult entertainment industry and/or broader entertainment industry.
Hay also asserts that the complaint filed against him by Gelbard last June is the result of personal animus on Gelbard's part, stemming from Gelbard having filed two previous complaints against LA Direct which were not successful.
"We understand that this is a personal thing with Mr. Gelbard and me," Hay says at one point.
Earlier today, the Free Speech Coalition issued a statement about the allegations against Hay. In the statement, the FSC said that while the organization "no specific knowledge of Hay's actions regarding the allegations, we can say that such behavior is immoral, illegal, and unacceptable."
"Hay was not a member of Free Speech Coalition, and we do not list him among our licensed talent agents," FSC added in its statement. "For years, he has refused to abide by the industry's testing protocols."
To watch the full NBC report, go here. To see Hay's video response to the report, click here. The full FSC statement can be read on the FSC website here.