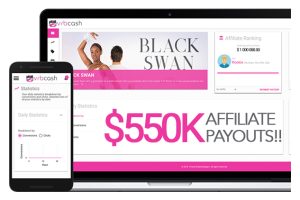 VR Bangers opted to support entities looking to make money in porn by first launching their affiliate platform, then by upgrading it into a fully-fledged VR porn system — VRB Cash.
Though VRBCash.com had only been active for a few months in 2018, the company's marketing campaign and innovative technologies and solutions significantly improved the operation of the entire system, yielding results much better than those achieved by the brand in previous years.
According VR Bangers, their proprietary affiliate platform managed to provide their partners and affiliates with over $550,000 in earnings during 2018, breaking their then-existing record and giving great hopes for the future. Preliminary financial forecasts assume that in 2019 this value may exceed $650,000.
"We have been working with our affiliates for few years now, but VRB Cash has given us a boost that actually worked better than we have initially assumed," said Daniel Abramovich, VR Bangers' CEO.
"I have always known that VR porn could bring a lot of money not only to producers, but also to people wanting to work with the product outside of the production – when we were entering the business few years ago, it was so small that not everyone believed in us, and now we can just laugh at all these people's doubts," Abramovich added.
Even though the market of virtual reality porn is still relatively small, every new person joining the business is helping to make it grow. VR Bangers' mission is to support that growth as much as they can, thus bringing virtual reality awareness to the entire world.
"Conversion for some of our top affiliates is as high as 1/30, so it is actually no wonder that we hit the record this year," said VR Bangers CTO Boris Smirnoff.
"We do what we can to help our partners to boost their businesses by doing things like having long calls with them – while trying to educate them how to sell VR in a better way. Tools provided by VRB Cash are naturally extremely helpful as well, but even though the platform is probably the best one available in the entire market, this year's success is mainly due to people willing to work, and secondly to our proprietary technological solutions," Smirnoff continued.
According to VR Bangers' view, mainstream sectors of the entertainment industry are increasingly open to sexual media. "We live in times when slowly but surely nothing is a taboo anymore – which, unfortunately, does not mean that porn itself will ever go mainstream or reach the popular social media channels. Even though most of the professional pornstars and studios have their Twitter and Instagram accounts, it is incredibly easy to be banned from one of those when promoting sexual contents – which means that the growth of new branches of xxx business like VR porn requires the help of people willing to make them to go viral and, as an effect, to make some money out of them," the company stated in a press release.
Recently, "I actually spoke to Palmer Luckey, the co-founder of the Oculus VR company, and he said that it is 'highly unlikely that Facebook will ever allow adult contents,'" Abramovich shared. "It pretty much means that the future of VR porn business is all in the hands of producers like VR Bangers and our affiliates that want to take a part in all of that – we certainly do hope to work with more and more people in the future and together bring the VR porn to its' greatest era so far!"
Those interested in VR Bangers may visit their website here.