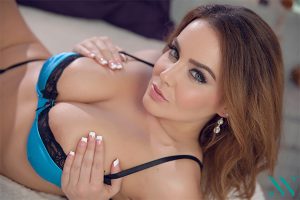 "I've hated slut shaming for as long as I can remember," Natasha Nice shared, laughing. "My response to [slut shaming] is to be a slut."
Nice was born in Paris, France and moved to California at the age of three. She started in the adult industry in 2006 and currently has almost 500 credits to her name per IAFD. Her father is French and her mother is Cuban, helping to meld Nice herself into a heady combination of modern global renaissance woman.
"I'm a fan of Lewis Carroll and have a general admiration for anything logical, bizarre, sweet and creative. I studied math, computer science and marine biology. I'm currently working on an essay that confronts the arguments against porn, and I hope France wins the World Cup," she continued.
We asked Natasha Nice what is it like to be an independent and experienced performer in today's industry.
"You work hard, and you work a lot," she explained. "And I feel like once you have experience, once you know how to do something, your focus becomes how to improve but also how to share your experience."
Here's what else she had to say.
YNOT: Can you describe your career trajectory? How did you go from Point A to Point T(oday)? 
Natasha Nice: My first shoot took place two months after my 18th birthday. I had always been really proud of my boobs and used to take nude pics in my room for the boys that I liked in my neighborhood and classes. I wasn't sexually conservative, and I always liked turning my conversations with friends to something sexual. I was just really curious and ambitious about exploring sex.
Once I decided to wait a couple years before going to college, I began looking up nude modeling gigs online. I had already been watching porn from the age of twelve or so, so when a porn agent contacted me, it already felt familiar.
So, you hit the ground running…
My first few years as a performer were just go-go-go, and I will admit I canceled several scenes either because I couldn't wake up at 7am or for other various irresponsible reasons. All in all however, I made a name for myself. I got a Best New Starlet nomination in 2006, as well as several others in the subsequent years, including Best Actress in 2011 and 2012. I'm also one of the relatively few stars to have had a successful six-year career (2006-2012) without performing anal scenes.
In 2012, I began to wonder if I should pursue more hardcore scenes, and then I thought, "Maybe I should check other avenues in life before fully committing myself to entertainment." I loved porn, don't get me wrong, but I had to explore other sides of my personality. I went back to school, checked it out, studied many things and, in December 2015, returned to porn.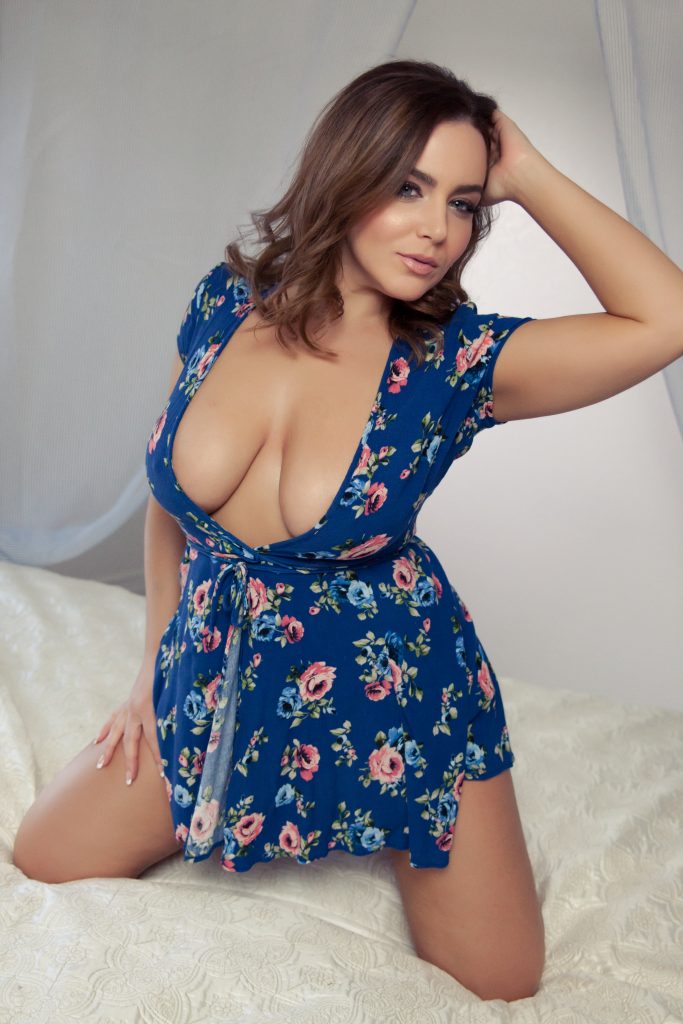 Did that step away change your perspective in any significant way?
Since my return to porn, I've opened my eyes to the prospect of being a business woman, as opposed to just being a performer. Every day, I try to be as productive as possible. The business has changed and apparently there's less work for everyone, but I appreciate the challenge to work harder and be my best.
One of my first scenes back was my first anal scene, which I shot as part of a contract deal with Greg Lansky. Then, Elegant Angel did a showcase on me, Naughty Natasha, which received a nomination for Best Group Sex Scene in 2018. I also redesigned my site, picked up writing again as an outlet for the issues pornstars face in and outside of porn, and found ways to improve my cammodeling persona – and I won the Fleshbot award for Cam Model of the Year last month.
I guess as a result of getting older – I'm 29 – I've zeroed in on what I want out of life, and one of those things is a successful, long-lasting career.
What are some of the biggest career challenges you have faced in the adult industry?
Honestly, just being my best. I'm lucky or blessed enough to never have experienced any of the horror stories I hear sometimes. I never showed up for a boy/girl and got sent home because I wouldn't do a gangbang, for example.
That being said, the biggest struggle has probably been staying on my A-game. Working out, self-care, consistency, discipline. Working in the gym, seeing results in the mirror but not on camera. It can hurt sometimes, but that's the job and I accept it.
In January, you wrote about the deaths occurring amongst performers. What do you think are some of the most significant and difficult issues performers must deal with that other industry professionals are unaware of or unfamiliar with? It sounded like you feel age may be a factor…
It's unclear to me how great of an impact age really has, but I know, for myself personally, it was really hard for me to identify how I was feeling at 18. Everything moved really fast, and it was hard to keep up. I didn't realize this back then. I was just always excited but also a little bit nervous too. A lot of it had to do with the fame. I didn't really know I was going to become famous. When they told me I was nominated for a Best New Starlet award, I was like, "Huh? I thought I was just fucking?"
Jobs in entertainment are high-pressure jobs, in my opinion. The younger you are, the less you know about dealing with pressure — unless you have, like, a perfect upbringing and parents who taught you everything about life. Ha! You lucky bastard. I'm not saying the legal age limit should be raised, but I think it would help new performers to know that this career can go from 0 to 60 almost overnight.
Morning sunshines! Shooting for @naughtyamerica today 😘 #staytuned #coffeetime ☕️ pic.twitter.com/f52nFFW8EL

— Natasha Nice (@BeNiceNatasha) June 26, 2018
In your best estimate, what can people who are in the industry but not performers or models do to support performers' and models' overall wellbeing? What can performers and models to support each other?
If the question is how to keep performers and models from behaving unsafely by doing drugs or committing suicide, then I would say the answer is to give one another a sense of strength. Know why you're in porn, and don't let the world contradict your beliefs. It can be hard to face the world when people want to shame us, but you just have to learn to tell them to go fuck themselves. If you start buying in to their reality, you'll begin to hate yourself.
Meanwhile, in regards to problems that we face within the industry, I would say it's important for us to pick our battles. Sometimes we have to speak up because something makes us uncomfortable – not all porn professionals are up to date on what's considered harassment – and sometimes we want to speak up just out of principle. For me, if the principle is not at the very top of my list, I try to let it go. I want my voice to have more of an impact when I actually do need to complain about something.
What are the most rewarding aspects of your career today? 
Honestly, I'd say just being true to myself is the biggest reward. I've tried other things and I was good at them, but I always felt like I was hiding a huge part of myself. Obviously this job has its stigmas attached to it, but I feel like as a result of being born after the sexual revolution, I was placed in an environment where I could question things further. For me, that question was what happens when I actually live my sexual life freely?
It's a bit extreme I guess, but it feels true. Hiding feels untrue. It's just my way of being progressive.
What is one key piece of advice you have for models and performers looking to get into the industry today? 
Know yourself. Just because you're down to fuck, it doesn't mean that nothing in this business will bother you. Know how to be honest with yourself about who you are, what you want and how to get it.
Find Natasha Nice on Twitter at @BeNiceNatasha and on her official site NatashNice.com here.