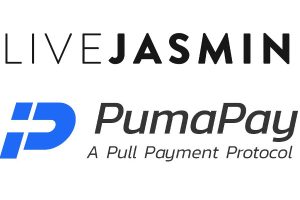 LiveJasmin announced today that it is collaborating with PumaPay, developers of the PullPayment Protocol, to offer LiveJasmin users a comprehensive solution for processing cryptocurrency payments.
Through its PullPayment Protocol, PumaPay has created a means to process recurring payments, something which wasn't previously possible using blockchains. According to the statement released by LiveJasmin on Monday, the is planning to adopt PullPayment as a crypto payment solution for all its sites, including for payments to models, studios and affiliates.
"LiveJasmin believes in innovation, hence why we are constantly seeking to improve and enhance our features and services," said Károly Papp, LiveJasmin Co-Founder and CEO. "Being the market leader often goes hand-in-hand with offering our members the most options possible. User anonymity and privacy are also paramount for the website."
LiveJasmin is part of PumaPay's roster of early adopters, a group which includes major adult and mainstream brands like Vivid Entertainment, Pornhub, CCBill, Rent24, Wix.com, MojoHost and Backpack.
"As a payment solution, PumaPay hopes to put clients back in control of their choices and transactions, as they will be able to cancel their subscriptions straight from the PumaPay wallet app, should they choose to do so," explained PumaPay CEO Yoav Dror. "With the flexibility of PumaPay billing scenarios, we hope to make the PMA token, a widely adopted payment method, meeting the needs of merchants and customers alike."
The announce from LiveJasmin follows up on active and momentous spring and summer period for PumaPay. In April, PumaPay's collaboration with Vivid was announced. The following month, the company announced it had raised over $117 million in its private sale. Pornhub's addition of PumaPay as a payment option was announced in August.
LiveJasmin had a busy summer as well, releasing new features for its messenger app in July and launching its own spin on the classic game "Truth or Dare" the following month.
For more information on LiveJasmin, visit the site at https://www.livejasmin.com/ or the Adult Webmaster Empire affiliate program site at http://www.awempire.com/
For more information on PumaPay, visit https://pumapay.io or contact guillaume@jasmin.com