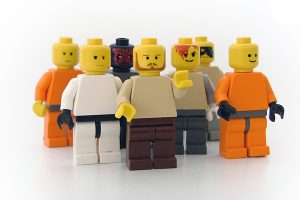 Sexual attraction to statues and dolls is a real thing with a clinical name — agalmatophilia.
Agalmatophilia encompasses sexual attraction to a plethora of things, ranging from statues to dolls and mannequins — and even LEGOs and LEGO-like toys. It's no surprise then that the LEGO space has created its own erotic media And although the LEGO erotica fanbase may currently be relatively small, like anything, there's potential for growth.
The World of LEGO Porn
LEGO porn primarily consists of positioning minifigures/"minifigs" — LEGOs consist of character figures, or minifigures, and bricks — in various sexual positions.
For instance, a video called "Sex with the Pizza Guy" depicts a pizza delivery minifig having simulated sex with another minifig in pink. Via VICE, YouTuber Kimberly Regan's "Lego Porn" video, uploaded in 2007, has managed to get a million views. LEGO porn makers have also done parodies of famous franchises, such as The Flash and Harry Potter.
Sex therapist Carolanne Marcantonio explained to VICE why lego porn is a fetish. "Flavors of sexuality are vast and expansive…some might be positioning the Lego in those positions simply because it's fun and exciting…" Marcantonio was quoted saying.
LEGO porn isn't limited to just showing minifigs in sexual situations though. On Imgur, there is a collection of renderings gathered by iateacrayon that has over 30,000 views. Some of them show conventional minifigs… and others show minifigs, reimagined.
Though there is certainly a lot of LEGO and LEGO-inspired erotic content to be found online, it may not appeal to large group of people. For instance, Reddit has a subreddit dedicated to LEGO porn. There are only a few posters, however, and the majority of the posts are from several years ago. iateacrayon's gallery is from 2013.
Room for business opportunity?
Though its current fanbase is murky, the potential for LEGO porn to grow into something substantial exists.
LEGO spokesperson Emma Owen has commented on the pornification of the figures in a remarkably inclusive way, telling the Daily Star in 2016, "Every day we see fans building and creating all sorts of projects with LEGO® products. And sometimes, they create something that we ourselves would never do, after all we are a toy brand for children. But that is what LEGO play is all about: That everyone can build anything they can imagine."
While the comment avoids mentioning LEGO porn directly, the company is also not condemning those who wish to participate in it. Who knows — if the LEGO porn fanbase happens to grow, the company might respond with a relevant themed set? (Kidding!)
For those who do not wish to hold their breath and wait for LEGO to indulge their fantasies, there is hope: create your own and monetize. Under the Model Payment Program for instance, uploaders have the ability to monetize content they place on Pornhub. Other sites — like YouTube — also offer monetization. YouTube's policies are likely to be more strict than Pornhub, limiting the type of content creators can make, but that's par for the course.
Ultimately, the existence of LEGO porn speaks to the fact that sexual desires are not limited to actual humans.
The Jurassic Park, et al porn parody Jurassic Wood: Swollen Dingdong hilariously posits, "Your scientists were so preoccupied with whether or not they could fuck a dinosaur, they didn't stop to think if they should fuck a dinosaur."
The film, another effort from Wood Rocket, depicts a hot and sexy human/dinosaur hybrid, demonstrating that possibilities for eroticizing figures and creatures is basically as limitless as one's imagination. And whereas a hot and sexy human/dinosaur hybrid is a creature wholly of the imagination, LEGOS are tangible items that can be physically positioned in any way that a content creator or LEGO enthusiast wants.
This taps into one element related to the psychology of porn: desire that can be channeled and directed. LEGO porn offers the ability to become aroused by the imagination, with a tangible element to help bring it into reality — and there's always a market for that.
Image via santiago cornejo.