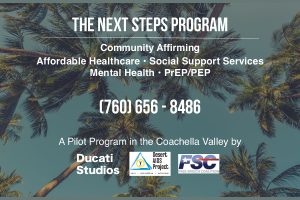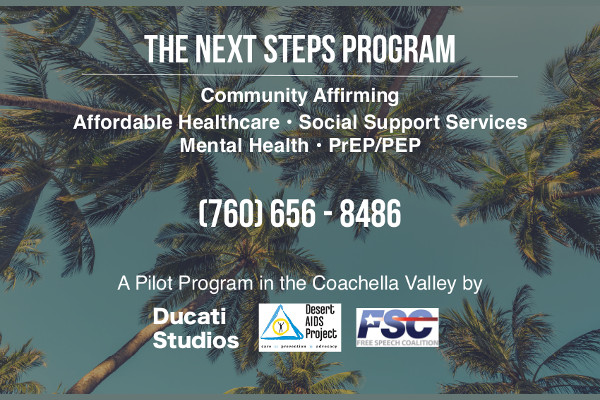 CATHEDRAL CITY, Calif. – The Free Speech Coalition, Ducati Studios and Desert AIDS Project announced today the launch of the Next Steps Program, a program first announced in January. The program, which will "assist adult performers in accessing Pre-Exposure Prophylaxis (PrEP), mental health services, and other health-related needs," will kick off with a party this weekend in Palm Springs.
On Saturday night, during Trenton Ducati's "Porno Disco" event at the CCBC Resort in Cathedral City, representatives from Desert AIDS Project will "conduct free HIV testing and spread awareness of the upcoming program," the FSC said in a statement issued today.
The Next Steps program is "still in its early phases" the FSC said.
"When fully realized the program will provide free on-set visits for adult producers, community-specific healthcare messaging and informational materials, and a warmline to help adult performers who may want to access healthcare, including PrEP, mental health services and substance abuse treatment," the FSC added in its statement announcing the official launch of the program this weekend.
Eric Paul Leue, Executive Director of the Free Speech Coalition, said the kickoff event is a crucial first step in making community-affirming care accessible to the performers and other sex workers.
"By bringing together stakeholders from our community, and meeting them where they live and work, the Next Steps Program will make a marked difference in the mental, physical and sexual health of adult performers," Leue said. "We hope this pilot program in the Coachella Valley will become a model for health departments and outreach organizations nationwide."