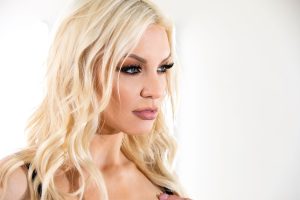 If you've been in the adult industry for more than five minutes, you've heard of Axel Braun. And currently, if you're even marginally tuned-in to popular culture, you're familiar with Carol Danvers, Captain Marvel and wider society's fangirl fascination with someone who is – quite possibly — the mightiest of all the Avengers.
But who in the world is Kenzie Taylor? Well, she might just be one of the mightiest women in the industry today.
Taylor started working as performer in 2015. She built up her scene credits with studios like 3rd Degree and Devil's Films, as well as with web-based content for studios on Clips4Sale. In early 2017, OC Modeling began representing her and her scene credits began to include work with studios like Evil Angel and Wicked Pictures. And then, all of a sudden, Taylor was cast in one of the biggest and most coveted acting roles of 2019 – the lead in Braun's Captain Marvel XXX parody.
We got the chance to ask Taylor about her work, what it took to play Captain Marvel and why one — including those of us in the industry — should never judge a book by its cover.
—
YNOT: What was your career path like before entering the adult industry?
Kenzie Taylor: Before becoming an adult film actress, I used work in healthcare and at the time I was preparing for my RN [registered nurse].
While working the long hours at the hospital, I realized that I wanted to keep helping people — but in a different way. I decided that I wanted to try myself out in the adult film industry and follow my passion, so I reached out to a few agencies. After only a month and a half, I got signed to an agency in Los Angeles and was flown in for an immediate shoot. I instantly knew that I did not want to go back and that this was my new life.
So, Captain Marvel?! What was the casting for this role like? What did you do to prepare? How did you stand out? 
The production had announced an open audition, and I decided to go for it. I sent them an email, and they responded back by sending me the [information]. I decided that I wouldn't be doing it justice if I didn't give it my all.
I worked on my lines and memorized the script, dressed completely in red and made my makeup completely to match the character of Captain Marvel. Lastly, since I know Axel Braun's sense of humor, I ended my audition tape with a little funny sign-off. One or all of these factors worked because I ended up getting chosen over 120 other people that auditioned for this role.
#NewProfilePic pic.twitter.com/WyaRlArWD0

— Kenzie Taylor kenziefans.com (@thekenzietaylor) August 30, 2019
How familiar were you with the source material and Captain Marvel herself before getting this part?
Actually, I came into this knowing quite a bit about the character of Captain Marvel and I was fascinated to see just how far back they took the story. You know Carol Danvers wasn't the original Captain Marvel. The character was called Captain Mar-vell, and it was played by a guy. The next person to play Captain Mar-vell was Monica Rambeau.
How important is authenticity when playing such a highly-watched and well-loved character? Was there a lot of pressure to "get it right"?
I wouldn't say there was a lot of pressure, but Axel — being the perfectionist he is — there was definitely many takes throughout the shoot to achieve the exact replica of some crucial scenes including four different custom molded costumes being used throughout the filming — two for dialog and two for sex. I was just stoked to have the opportunity to create something like this. Either way, there will be those that won't like it and those that will. I am here for this amazing ride and proud of what we made.
I saw a lot of working out and training on your Twitter feed. What was the physical prep for this part like? 
Well, I already train in general, but after being cast for the role I had a conversation with Axel about it and we decided to hire a personal trainer for my workouts and focus on high intensity leg workouts. In all honesty, it kicked my ass! It was deadly at days, but we needed it so I would fit the costumes in a specific way and stay consistent throughout the shoot.
Getting ready for #CaptainMarvel XXX who's ready?!! @axelbraun @WickedPictures pic.twitter.com/ww332GAzw6

— KENZIE TAYLOR (@thekenzietaylor) May 3, 2019
I've read that you were known mostly as a "gonzo girl" prior to this role and that the casting seemed to "come out of nowhere" – how do you feel about that assessment?
My casting was very unexpected. I think it's an amazing thing that nobody saw it coming, and I got to surprise everyone with some true acting chops.
What impact has this film and all the promo surrounding it had on your career within the industry?
Well, this whole experience is just starting for me and beginning to open some new doors. For example, I had just had my first opportunity to write my own movie. I have received praise from many writers, directors and producers and other people I probably would not have had a chance to meet had it not been for my role in Captain Marvel. My ultimate goal is to direct movies, along with just staring in them.
What impact has this casting and all the promo had on your career with fans?
I have definitely been noticing a significant growth within my fan base. They have been very loyal and expressing their support to me as well as recognizing my work on a more serious level. These are not just your typical [viewers]. These are huge franchise fans, as well as film critics.
What's one thing you want people to know about your work that they may not be aware of?
Besides being an educated nurse with nerdy tendencies who is the biggest Marvel fan, I guess all I have to add is — Don't judge a book by its cover!
Find Kenzie Taylor on Twitter at @thekenzietaylor.