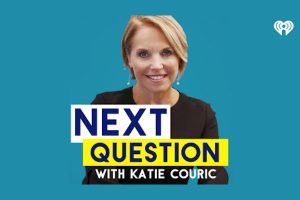 Legendary journalist Katie Couric has launched a podcast called "Next Question with Katie Couric," where she aims to take on big questions. In the inaugural episode on September 26, Couric tackled the ever-popular subject of pornography's effect on young people. It's a conversation worth having, sure. But, disappointingly, Couric didn't exactly dig into it with journalistic objectivity. To whit, she explored the question: "Is violent porn changing us?" 
To dig into this already-slanted question, she interviewed three individuals: Trish, a psychologist who experienced the so-called effects of violent porn in her relationship with a man; Al Vernacchio, a Quaker sex educator and teacher; and the porn industry's favorite antagonist, anti-porn crusader and talking head, Gail Dines.
If you're looking for a "porn expert" to back up your already-held position that porn is inherently bad and hurting people…then Gail Dines is a perfect choice. So, by having Dines on the show at all, Couric was pretty much showing her hand.
What followed was, predictably, a thirty-minutes-ish parade of all the same old tired fear mongering about pornography and how it's out to get us all, destroy our society, and dehumanize women. 
Dines outlined her version of "the three major sex acts in porn," which she, inexplicably, believes are as follows: "Number one, ejaculating on a woman's face and increasingly in the eyes. The second major sex act is choking—first it's choking with the penis, and the penis is so far down the throat that she begins to gag. The third major act is one which is called ATM, which actually translates as 'ass to mouth,' where the penis goes into the anus and into the mouth without washing."
Sure, these acts are available in lots of porn. But Dines got her estimation of just how prevalent these acts are…um…wrong. According to Pornhub (which I'm pretty sure is what Dines and other anti-porn crusaders mean when they talk about "mainstream porn"), in 2018, the most popular categories in the world are Lesbian, Japanese, and MILF. Sure, there can be overlap between any category and Dines's list of "scary" no-nos, but the most-watched porn in the world isn't nearly as upsetting as her anecdotal tirade would lead listeners to believe. 
Dines then intoned, "We are basically laying waste to a generation of girls and boys to hardcore free pornography."
Wow. That's quite a claim.
But, not to be deterred by journalistic integrity, Couric fired right back: "Here are the scary statistics: A third of young people have seen porn by the time they're 12 years old; 88 percent of top-rented or downloaded porn contains scenes depicting violence against women. How have they been able to stay under the radar?"
Interesting question, except…they're not under the radar, Katie. This kind of alarmist statistic-jockeying has been going on for years, and this podcast is just reusing the same (mostly fabricated) numbers and scare tactics.
The podcast ended with ideas about how to protect kids from the worst effects of this kind of debauchery—and I can't argue with them. Porn-informed sex education, Couric offered, is of vital importance, and I tend to agree. But if that education contains the kind of hyperventilating, pearl-clutching terror that went into making this podcast, I guarantee that most kids will just want to watch porn even more. An even tone and an actual knowledge of the subject matter would help adults provide real answers to real questions—instead of whispered rumors and make-believe numbers.