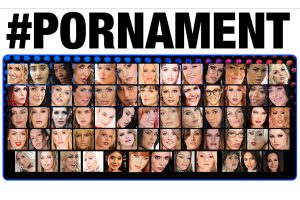 PHILADELPHIA – HotMovies.com has announced the launch of their 5th Annual Porn Star Bracket, now dubbed "The Pornament." Set to tip-off on Tuesday, March 19, the event is inspired by the annual NCAA college basketball tournament.
The Pornament "will feature 64 of today's hottest porn stars in head-to-head bracket style match-ups, with the winner of the final round receiving a $2000 cash prize along with a $500 donation in her name to the charity of her choosing," the company said in a statement announcing the event's launch.
To get the ball rolling, HotMovies.com will be tweeting out and posting on Instagram all 32 initial match-ups on their own version of "Selection Sunday" this weekend, Sunday March 17.
The company said previous years of the event "were a great success and raised awareness for several worthy charities." The first four Pornament MVPs were Jodi West, Hope Harper, April O'Neil, and Georgia Jones.
"HotMovies.com has placed a larger emphasis on charity promotion and will be working to interact with the different foundations and organizations all throughout the event," the company said in its statement. "Fans will login to HotMovies.com to vote, where they will also receive a special offers such as free minutes and free scenes for each round of the tournament. Voting is free, there is no purchase necessary in order to vote."
The company added that "in order to increase both the performer excitement and the amount of donations to various charities, HotMovies.com has added three side prizes to the Pornament: Miss Congeniality, Most Creative Campaign, and Funniest Campaign."
The Pornament will run from March 19 to April 8, 2019. HotMovies.com said that fans are "encouraged to vote early and often but no more than once per day." The winner of the Pornament will be announced on April 9, 2018.
Voters can see the matchups at https://www.hotmovies.com/tournament.php starting on March 17.