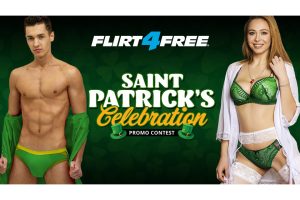 Westlake Village, CA — Flirt4Free has just announced the details of their next major holiday promotion. The 2019 St. Patrick's Day Celebration will feature all the sexy shenanigans Flirt fans loved in last year's event — themed shows from top models, giveaways and animations — along with a larger-than-ever $20,000 prize pool.
The four-day online party runs from midnight to midnight (EST), Thursday, March 14 through Sunday, March 17. The Clover Hunt returns as the headlining contest. Customers can gift virtual Clovers inscribed with sexy and suggestive messages to their favorite models, with big cash prizes awarded to the cam guys and cam ladies who collect the most. There are two ways for performers to win: being among the top ten recipients in overall Clovers and being among the top ten in Clovers earned from unique site members.
As was the case for the 2019 Be My Valentine contest, the bigger-than-ever payouts now range from $100 up to $1,500. Meanwhile, customers will again be able to purchase Clovers in custom amounts. A bushel of seven or more will light up the chatroom with St. Paddy's themed animations to celebrate their generosity.
"Saint Patrick's Day always draws our most popular cam personalities online," said Jamie Rodriguez, Flirt4Free's Director of Product.
"Not only is it a great time to connect with your favorite performers, but you really get to see their creative sides with all the fantastic decorations and costumes. They go all out to collect those clovers, and all the in-room raffles and games of chance mean fans have their own opportunities to get lucky," Rodriguez added.
In the days leading up to the St. Patrick's Celebration, the site conducted a special giveaway on Twitter. Followers and models alike had the opportunity to snag some holiday swag, such as green "Kiss Me, I'm A Flirt" t-shirts and custom beer steins. To take part in their next giveaway, follow @Flirt4Free and watch for contest announcements.
Lucrative promotions that are fun and engaging have become a hallmark of Flirt4Free over the company's 20-year history. For complete St. Patrick's Day Celebration details and rules, visit Flirt4Free.com.