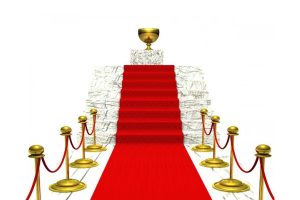 LAS VEGAS – The entire adult entertainment industry has been nominated for various awards and will be signing at some booth at a tradeshow in Las Vegas this week, every publicist and PR firm representing clients in the industry announced this week.
According to 18,641 emails received since last Friday by adult industry quasi-journalist Ben Suroeste, everyone in the industry except Suroeste appears to have gathered in Las Vegas to "get shitfaced drunk, show up late at their booths and maybe pretend to pay attention during a seminar or two," Suroeste said.
"Honestly, at this point, I'm having serious difficulty keeping straight which of these entities are people, which are companies, and which are potentially award-winning pleasure products," Suroeste said, adding "it's possible some are all three."
Reflecting his struggles, Suroeste noted that he has spent the last three hours editing a post about someone (or perhaps something) called "Goddess Mistress Frozen Angel G-Spot Vibe+ VR Productions, LLP."
"I can't tell if the press releases which form the source of this post are about something I'm supposed to rub on my genitals, someone I'm supposed to rub my genitals while watching, or someone I can contact about suing a third-party who has virtually rubbed my genitals without my consent," a clearly flummoxed Suroeste said.
Also confounding the veteran porn industry writer is the list of nominees for the "Best Art Direction in an All-Girl Executive Foreign Anal Enhancement Anthology" category.
"The category clearly indicates it's 'all-girl,' but I'm like 99% certain that Markus Ferrara Tushy-Skeet is a dude," Suroeste said. "And don't even get me started on Digital Madison or Severe Sweetheart-Dorcel. Where do these kids these days come up with their porn names, anyway? Are they just randomly pulling words out of the dictionary, or maybe a British telephone directory?"
Alatar Gwydion, who identified himself as Suroeste's "primary care witch doctor," said he's concerned for his longtime client, friend and occasional weed connection.
"I haven't seen Ben this unbalanced and chakra-misaligned since the Great Adult-Friendly Crytpocurrency Press Release Influx of 2017," Gwydion said. "It seems like no matter how much St. John's Wort oil I rub on his chest and regardless of how much spiritually-healing peyote tea he imbibes, his level of disorientation just keeps rising."
While Gwydion consults ancient texts and scattered sheep organs in search of something which will get the writer back on track, Suroeste said he's going to "keep sifting through press releases and pecking at the keyboard until I come up with something that makes enough sense to publish."
"Thus far, I've determined that around 43% of the industry will be signing at the Adam & Elegant booth, while another 30% can be found hanging out poolside at the Evil Girlfriend Bros Augmented Reality cabana," Suroeste said. "Or maybe vice versa."
As of the time of this post's publication, Suroeste had last been seen hunched over a toilet, repeatedly mumbling "F, M, L" — presumably the initials of an award-nominated adult performer, director, studio or product.