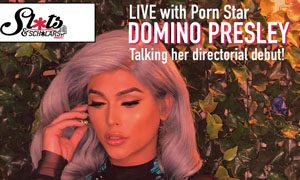 TEA winner Domino Presley will appear on the Sluts & Scholars live show tomorrow on Sirius XM Ch 415 from 2-3pm PST.
"I'm super excited to be on the show and can't wait to let everyone know what I've been up to," says Domino Presley. "With my directorial debut coming out in October, I'm excited to chat with Nicoletta about my upcoming movie."
Presley's upcoming directorial debut, Domino Presley's House of Whores, will hit shelves on October 1, 2018, and can be pre-ordered exclusively at GroobyStore.com. The Grooby Platinum title stars Domino Presley, Jane Marie, Natalie Mars, Ryder Monroe, and Eddie Wood.
Born and raised in Atlanta, GA, Presley entered the adult industry in 2010 and is one of the most popular performers to date. She is a multi-year TEA winner and has worked with every major trans adult company. To learn more about Domino Presley, visit her official site at TS-DominoPresley.com or Onlyfans.com/DominoPresley.