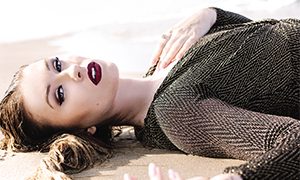 The hole Misha Cross needed to fill was in her soul. Immigration issues have barred the bewitching beauty and budding pornographer from working in the U.S., but she's turned her artistic and professional desperation into a work of haunting sexual beauty. Evil Angel Films will release "Misha In Exile" September 19 on DVD and VOD. A trailer at Evil Angel Video the ivory-skinned star's exquisite performance in all of her movie's luxuriously lensed scenes.
"'Misha In Exile' is in some way a manifesto of my strength," declares the young filmmaker. "Even though I've been very successful and busy in Europe, the hiatus in the U.S. market made a hole in my soul I couldn't fill with anything. The idea for the movie was born when I came to the conclusion I'm pretty much sick and tired of feeling helpless rather than creative. So one day I decided to change how I feel. I kinda used my anger to my advantage."
"This is Misha Cross producing and directing scenes on a very high level," says Evil Angel founder John Stagliano. "Her cinematography is beautiful. Her sex is hard hardcore. And she is emotionally invested in this project. This is her proving herself to the world market while she endures the handicap of not being able to produce and star in movies made in America."
"All I wanted to do was create a movie that would be beautiful and technically the highest quality possible," Misha reveals. "Cinematic and filled with pretty visuals. A movie that minimizes the distance between mainstream and porn. It's shot with the utmost care to each detail."
Captured in picturesque locations in Spain, "Misha In Exile" includes four hardcore segments: Muscular Erik Everhard manhandles black leather-clad Misha in an anal scene; dark-haired Dolly Diore and Misha do a rough anal threesome with Ramon Nomar; Everhard returns with Lutro to double penetrate the star; Misha and comely Briton Samantha Bentley share a wet lesbian date.
In addition to the soft French kissing and orgasmic scissoring in her scene, Ms. Bentley contributed music to "Misha In Exile." Explains the director, "The three-minute teases before each sex scene are made to look like high-end music videos. Samantha did such a great job with composing these pieces that made the whole thing more dramatic and deep."
In fact, Misha and Samantha collaborate to create drama, depth and sexy emotion starting with the film's first frames. According to Misha, "I had this idea in my head to shoot an intro to the movie where I submerge myself in the sea. This was one of the most extreme non-explicit things I've shot in my life, 'cause the water was freezing and we filmed on a very windy day, which made it almost impossible to film. We nailed it, though. It has this amazing piece of music tailored by Samantha in which the voice in the background goes, 'Just when you think it's all fine, the feeling always comes back,' which speaks to me on so many levels and pretty much describes how I've been feeling."
Trying circumstances often inspire great art; in this case, gorgeous filmmaking and liberated passion come from "Misha In Exile." Less certain is how the banishment of a creative, hardworking beauty makes America great again.
Download the press release materials for Misha Cross' "Misha In Exile".