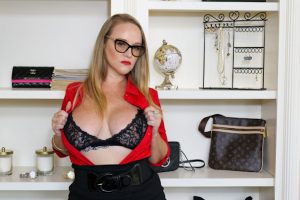 Hollywood, CA – Dee Siren, adult performer, independent content creator and owner of Siren XXX Studios, has built up a broad knowledge base about the adult industry since starting her career in 2010 – and now the multifaceted former schoolteacher aims to share that knowledge with new talent coming into the industry.
"I have faced a lot of struggles in my career, and fortunately, I've had a support team to assist me," Siren said. "For a lot of performers, they don't have that. I feel that this industry has done a lot for me; this is my way of giving back – by sharing my experiences, good and bad. Hopefully, viewers, readers, can take something away from what I share."
To kick off her mentoring efforts, Siren has made her first contribution to XCritic's "X-Mentors" article series. The ongoing new feature is designed to allow "industry professionals to share their tips with newcomers who are learning to navigate the porn landscape." Siren's first installment, "How to Get Into Porn?" offers readers Siren's "unique take having faced a career change from working in a classroom to getting nude on camera."
In addition to contributing to the X-Mentors series, Siren has started creating videos in which she "expounds on her experiences." Described as "candidly intimate videos" that cover "rarely discussed, but essential wellness topics like battling social anxiety during conventions, how to stay healthy at a convention, and the ways award nominations can benefit a performer," the videos are available on Siren's Youtube channel.
Siren also plans to launch a podcast on Demon Seed Radio, a show that's currently in pre-production and slated to debut in the weeks ahead.
For more information on Siren and to stay current with her plans and releases, visit MrsSiren.com and follow her on social media — @MrsSiren on Twitter, deesiren1 on Instagram – as well as Snapchat, OnlyFans, Pornhub, ManyVids and SextPanther.