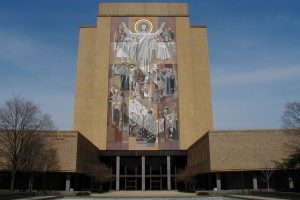 Before Tumblr got in on the porn-banning action, a surprising group had already started calling for filters on smut: College dudes.
One might think that undergraduate students, most of whom have just been liberated from their parents' control—and internet blocks—would be thrilled to take in smut online. But, back in October, eighty male students at Notre Dame University in Indiana wrote an open letter to the editor in the college's student newspaper, The Observer. In it, they requested a porn filter on the campus wi-fi networks, in order to "stand up for the dignity of all people, especially women." Letter-writer Jim Martinson cited studies, anecdotes, and well-worn tropes about pornography's "catastrophic" results on individuals, relationships, and marriages.
The conservative standard conflation of pornography with sex trafficking made an unsurprising appearance in the letter, as did this (unsupported) gem: "Pornography is associated with a host of issues: addiction, child sexual abuse, divorce, male fertility problems, sexual assault and the acceptance, normalization and sexualization of cruelty towards women."
And the women of Notre Dame, their pearls firmly clutched, agreed: The day after the men's letter was published, sixty female students wrote their own in support of the proposed filter. A campus-wide petition later garnered over 1,000 signatures. And it didn't stop there — Martinson told the Daily Beast that he'd received dozens of e-mails from students at other colleges where porn bans are gathering support. Colleges like Georgetown, the University of Pennsylvania, and Harvard.
Never mind that porn blocks are notoriously ineffective. Or that bans of pornographic material usually lead to bans on important educational resources about sex. Or that there's never been a reliable scientific study that linked porn use to aggressive behavior — or that one study from 2005 actually showed that porn use didn't lead to any negative attitudes toward women at all.
If the Tumblr porn purge is any indication, the smut-banning craze is pretty hip right now, but we hope that the smart folks at some of America's most esteemed institutes of higher learning will apply their use their brainpower to come up with a more effective, more nuanced, and more sane approach to the complicated issue of sexuality than violating their students' First Amendment rights on campus.