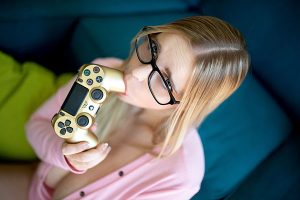 Always be respectful of boundaries but embrace what turns you on.
That straightforward philosophy is central to Codi Vore's love of the adult industry lifestyle, and it's winning her a lot of fans and engagement on social media.
Las Vegas native Codi Vore started camming at age 20, but quickly transitioned to producing adult video clips because she found it more rewarding.  She chose her industry name in tribute to vorarephilia, a fetish that causes positive erotic feelings to be associated with the consuming or swallowing of another person or animal whole. It's not a very common fetish, which can sometimes cause those who have it to feel ashamed.
"It was the first fetish I ever realized I had, and I often felt embarrassed by it," recalls Vore.  "Embracing my dark and weird fetishes through my job has helped me have a healthier relationship with my sexuality."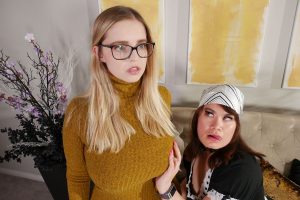 It turns out that plenty of fetish fans appreciate performers like Codi who help them feel less shameful about their own kinks.
"A lot of my fans have told me that I made them feel less ashamed of their unusual fantasies, and I think that's really beautiful," says Vore.  "Shame only makes us more repressed and as long as we are respecting the boundaries and comfort of the people we engage with sexually, we shouldn't hate ourselves for what turns us on."
Codi's non-judgmental and comfortable approach to turn-ons is winning her a lot of fans, and she interacts with them regularly on Twitter, Reddit, Pornhub and OnlyFans. She's found those interactions to be overwhelmingly positive and has even benefited from their emotional support and pep talks.
"There is no feeling in the world like hearing that the work you produced made an impact on somebody else, even if that impact is a very confused boner," Vore jokes. "Really though, the fact that people are excited to pay me for the content I make blows my mind every day."
It's precisely because of her fans that Codi has enjoyed so much freedom in her day-to-day routines. Naturally spontaneous and independent, Codi isn't a fan of 'regular schedules,' and she believes she does her best work when she's free to be creative and try new things.
"I really try to listen to my body when I work so I can take advantage of my natural energy and motivation, while taking a break when I need to recover or can't focus," says Vore. "You just can't do that with most normal jobs."
Producing her own clips has provided a creative outlet for Codi, but she also enjoys working with adult studios.  Her first hardcore scene was in Wood Rocket's Jurassic Wood: Swollen Ding Dong, a parody of Jurassic World that also starred Lauren Phillips and Robby Echo.
Vore got the playful part of a velociraptor, which meant her body was painted entirely blue for her scenes.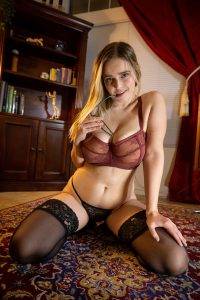 Codi has also shot regularly for Scoreland, and in 2018 the publication flew her out to the Dominican Republic to participate in an exotic photo shoot.
"I was the only US model, so I got to meet several incredible big boob models from around the world," says Vore. "We stayed in a really beautiful place on the beach, so I got to go skinny dipping in the ocean."
That particular shoot though made a lasting impression on Vore not just because of the location, but because of the other women she met. Scoreland specializes in voluptuous models, and the mood on set was friendly and fun.
"Honestly, one of the coolest things about it was just getting to be around other women who looked like me," says Vore.  "Having a small frame and big natural tits is not very common, and I think it often makes me feel kind of strange or insecure. This was the first time where my body was truly normal."
And she adds that the friend plantains were pretty good too.
Although content production has been slowed as the adult industry adjusts to the ongoing Covid pandemic, Vore has a lot of activity planned in the coming months. While she can't yet share all the details, fans can expect to hear a lot from Codi in the very near future.
"I have tons of new things in the works," says Vore.  "I've been shooting with more companies, and I'll be releasing a new BGG threesome scene independently soon.  I'm finishing up the third episode of my Tomi Lahren series, and I have a few more fetish scenes in the works."
Also of note to fans, Codi's brand new official website will soon be ready for members to join. Although Codi doesn't do many lives shows, the site's launch will be one way that fans can enjoy a special live video stream with Codi.
"I hope to have my own paysite up and running soon, and I have a very special live show planned to kick it off."
Follow Codi Vore on Twitter to keep up with all her latest adventures.