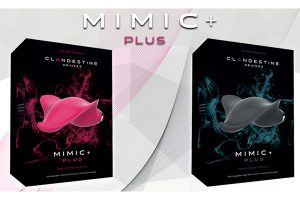 Chatsworth, CA — Clandestine Devices recently announced that their MIMIC + Plus pleasure product will soon join the curated retail collection for sale at the Museum of Sex in New York City.
"The Museum of Sex prides itself on being an institution built on the foundation of sex positivity and education," said Kit Richardson, Merchandising Associate at the Museum of Sex.
"Not only is the MIMIC an art piece in and of itself, but it is a product that knows no gender and allows the hands that hold it to navigate their own sexual pleasure the way they want best," Richardson added. "It only makes sense to have the Mimic as part of our repertoire. It is consistently a Staff Pick here at MoSex."
The popular, portable handheld adult toy joins a unique, curated group of specialty products at the Museum's in-store gift shop. Visitors may purchase items upon visiting the showroom exhibitions.
Clandestine Devices' Director of Operations Kimberly Faubel explained "the Museum of Sex has been a supporter of the MIMIC from the beginning. We couldn't be more honored to be in their curated retail selection!"
Faubel apparently visited the museum and shared information about the MIMIC + Plus – and museum community members shared a thing or two with the executive!
"The museum is the perfect example of sex positivity at work. What made this visit so rewarding was having the opportunity to meet the retail staff and introduce them to the MIMIC + Plus. We had a fantastic session together, and the team at the Museum of Sex is so eager and enthusiastic, which is no surprise… They really know what they're doing with the curious folks entering their store, and their feedback and questions were so insightful," Faubel said.
"I may have been the one showing our products, but they taught me a thing or two as well. I encourage everyone who can visit the museum to do so, particularly if you work in the adult retail industry. This team is an inspiring example of what our future holds and how we can continue to be sex-positive in this changing world of ours."