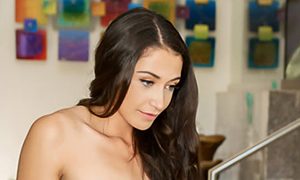 VENICE, CA – Leave it to Avi Love to turn a poker table into a poke-her table.
In Team Skeet's new "Ace in Her Pussyhole" for the company's Teen Pies line she is helping her man cheat as I takes on a pair of marks. Avi serves drinks while collecting information on the others' hands, passing it along to her man. She even sneaks him cards, which she has stuffed between her pussy lips.
And then she gets too excited.
Some say her pussy was wet and the card slipped out, others say that she got excited when her man won a hand and in her jumping up and down the card came loose and fell out. Whatever happened, it quickly became clear that some cheatin' was going on and to defuse his guests' anger he suggests that Avi lie naked on top of the table and they play on top of her.
Avi is all in and probably no one is surprised that the guys couldn't keep their hands off her and first she's showered in chips and card and then it's a take-your-turn delight as Avi fucks one cock after another and, ultimately, each blows his load in her pussy. Who says cheaters never win?
"That was the greatest game of poker I have ever been a part of," Avi said. "Of course, I became a much bigger part of the game than I'd intended. What can I say? I'm excitable! I definitely got a full house that night!"
Watch "Ace in Her Pussyhole" on our site!