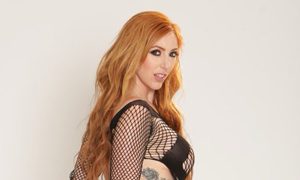 America's Favorite Redhead™ Lauren Phillips isn't just a star in her home country, she is an international sensation.
She was just interviewed on the FAN radio show out of Argentina and they showed great familiarity with the redheaded superstar's work. The morning show-style broadcasts from Buenos Aires every Sunday night, is in Spanish and English, and features music and interviews. The episode, available via their podcast, also features an interview with Rebekka Johnson, one of the stars of Netflix's popular series GLOW.
The hosts were particularly interested in Jurassic Wood: Swollen Dingdong, the new WoodRocket parody of Jurassic World: Fallen Kingdom in which Lauren takes on the role (Claire Dearing) played by rojaBryce Dallas Howard in the Hollywood original. They asked if porn stars have any contact the actors who played their roles originally.
"No, a lot of the stuff, whenever they ask me to do a parody or a porn version of something, I do a lot of research and I'll watch anything I need to watch to make sure I become the character," Lauren explains,"but it would be pretty funny if they told some of the actors I was playing them."
They were also intrigued by the threesome in the movie that involves a dinosaur. "While you're filming this, do you crack up? Can you just not stop laughing because of the things that you're filming?"
"When they told me that I would be having sex with a dinosaur, I was just like, all right, let's see what happens," Lauren says. "The girl that played the dinosaur, that was all body paint, so anytime we rubbed up on her, the paint that was on her body would end up on ours and we had to be really careful with her tail, which was attached with some kind of skin glue, so we had to be really careful with that, too. The shoot went longer than expected and I had to rush to the airport to get back to LA and I had spots of blue all over my body. It was definitely a really funny moment. And the script and the dinosaur themes they were trying to do, it was hilarious."
Lauren has an astonishing amount of new releases this summer that even hardcore fans are having trouble keeping up. Lethal Hardcore has a new collection, Big Booty MILFs 2, which features Lauren on the cover with Carmen Valentina. She stars in Miles Long's new Are You Rough Enough? 3 for Little Dragon Pictures. She takes it in the ass in Teens Love Anal 8 (Team Skeet). She also does some amazing fetish work in Beg To Cum 2 (Reality Studio), where she clearly runs the show.