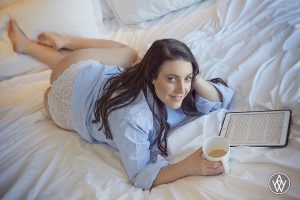 LOS ANGELES – The More w/Mo podcast, hosted by adult industry veteran Mo Reese celebrated the release of its hallmark 250th episode with a special guest – adult superstar Angela White.
"The past year has been a lot of fun and I'm very happy with my decision to bring the show back after a year-and-a-half hiatus," Reese said. "I wanted to have a special guest for this episode and Angela White was at the top of my wish list. I truly appreciate Angela taking time out of her insanely busy schedule to do the show."
White said she was "excited to be invited back to chat with Mo for his 250th episode."
"I love Mo's relaxed and authentic interview style that allows us to just have a conversation," White said. "We touched on so many elements of my life, career, motivations, and the big projects I was involved in throughout 2019. Congratulations Mo on a monumental 250 episodes! I'm looking forward to listening to 250 more."
Since the relaunch of the podcast in January of last year, MORE w/Mo has recorded 50 episodes featuring a wide variety of guests from many corners of the adult industry.
"With guests like my amazing girlfriend Karla Lane, Abigail Mac, Courtney Trouble, Isiah Maxwell, Casey Calvert, Eddie Wood, Ana Foxxx, Cherie DeVille, Michael Vegas and so many more, how could I go wrong?" Reese mused, adding "did I do enough name dropping there?"
Reese said his goal remains the same as when the show first started – "to talk to members of the adult industry about more than just what they do on camera or behind the camera."
"I want listeners to get to know more about these talented people that they may have only seen having sex," Reese said.
New and original episodes of MORE w/Mo including a previous interview with Angela White are available on SoundCloud, but all new episodes since the relaunch are also available on Apple Podcasts, Spotify and Stitcher.
Beyond the podcast, you can also find Reese on Twitter @MOXXX and Instagram TheAverageMo and follow MORE w/Mo on Twitter and Instagram. For more hardcore content, visit his POV ManyVids store AverageMoPOV.com.