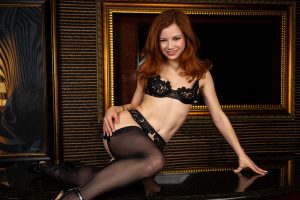 Petite powerhouse Luxury Companion and legalized sex work and sex education advocate Alice Little is literally everywhere with interviews on Daily Beast, Two Girls One Mic, and the New Books Network.
Seasoned writer Aurora Snow wrote a new column for the Daily Beast about the new crops of Democratic hopefuls and how sex workers are finding it hard to get excited about these candidates with most of them supporting FOSTA/SESTA. "Porn Stars Find 2020 Democratic Candidates 'Extremely Depressing'" delves into the intricacies of sex worker safety and resources with the passing of FOSTA/SESTA. Alice voices her frustration with lawmakers who voted on the bill without knowing the implications. Although Alice works at a legal brothel, it's still disconcerting for her as a sex worker. The Daily Beast article also speaks to Sydney Leathers, Mark Spiegler, and others about their views on the candidates. Read it in its entirety online.
Badass babes Alice and Yvette of Two Girls One Mic: The Porncast had Alice as their guest. Her episode is cleverly titled "Little Brothel on the Prairie". They cover a lot of ground including what it's like to work in a legal brothel in Nevada, safety, pegging, why every bedroom needs an extension cord, the loneliness epidemic in our country, and legalization. Listen to the entertaining and super savvy podcast.
Alice was included in atypical economist Allison Schrager's book "An Economist Walks into a Brothel". Both Alice and Allison are guests on the latest podcast "New Books and Gender Studies" on the New Books Network with host Kyle McMillen. Alice discusses the legal brothel system, how she's become an advocate for sex workers, financial risk and safety in sex work, and much more. Get ready for an educational podcast and hear it online.
"The article and both podcasts are extremely educational—you should definitely read the article and listen to both podcasts to learn more about legal brothels, politics, and what it's really like to be a sex worker," says Alice Little. "I was honored to be part of all three."