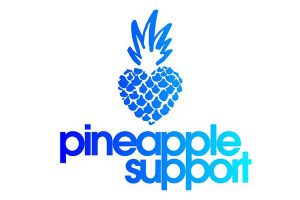 Pineapple Support, the adult industry's leading mental health resource, has secured 501(c) 3 non-profit status in the US, nearly a year to the day from the organization's founding. The organization already has non-profit status in the UK.
"This is the most tremendous anniversary gift Pineapple Support could ask for," says Leya Tanit, who founded the organization in April 2018. "This clears the way for many other people, companies and other organizations who want to support the organization as a charitable deduction. 
Pineapple Support was launched by Tanit in response to a string of losses in the adult industry from depression and other mental illness. In its first year alone, Pineapple Support has connected over one hundred adult performers to mental health services including free and low-cost, therapy, counseling and emotional support.
Major adult companies have already stepped up to support the organization, including PornHub, ModelHub, xHamster, Kink.com, Clips4Sale, Gamma Films, Rabbits Reviews and others. Tanit hopes the new non-profit status will encourage more to give — and to give more
"We've worked so hard to achieve non-profit status," says Tanit. "This opens up a new chapter for Pineapple Support, and will help us reach even more performers in the coming year. I thank everyone who has supported us so far, and all those who will now join them."