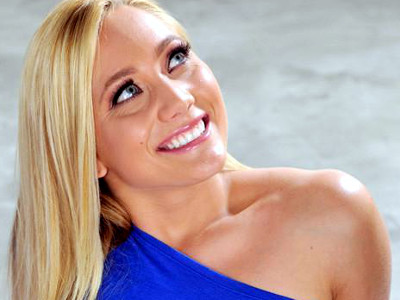 By Peter Berton
LOS ANGELES – Fresh off her XCritic and XRCO awards wins, perky porn star AJ Applegate just completed her first gangbang in HardX's appropriately named Gangbang Me.

YNOT allowed Applegate to catch her breath before catching up with her, because we're considerate that way. Once we sat her down, though, we showed no mercy, diving into her professional and personal lives with equal relish. Among the tidbits we discovered: She's a Zumba instructor.
YNOT.com: First, give us just the facts, ma'am.
AJ Applegate: I was born in Long Island, NY, and raised in Connecticut. I'm 5'2″ tall and of Italian and German descent.
I've never been the shy type. Before the adult industry I was a dance teacher and a professional dancer for pro sports teams.
One of the things you taught was Zumba, right?
Yes, I was a dancer and cheerleader for 14 years. I'm still finishing school to get my dance degree.
Right now I'm a certified basic Zumba instructor. I'm working on getting certified in Aqua Zumba and Zumba Sentao. Zumba Sentao combines strength and resistance training with innovative dance moves using a chair.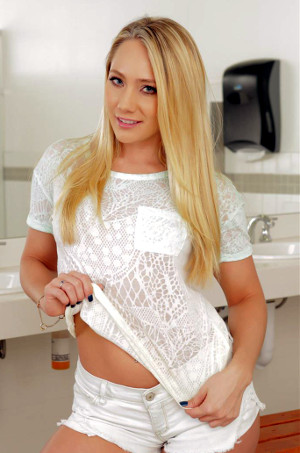 Why take the plunge into adult entertainment?
I started watching porn at a very young age. I always had a lot of interest in the adult entertainment industry.
After working in a strip club and as a fetish model at the age of 19, I finally joined the porn industry at the age of 22.
Why did you take the last name Applegate?
Every time I went on set, I was told I resembled Christina Applegate from Don't Tell Mom the Babysitter's Dead. Even throughout high school, a lot of people would tell me I looked like her, so I decided to take the last name. Besides, the name is original and I knew it would stand out.
Also, it works for me because of my apple bottom.
About this first gangbang….
Gangbang Me was my first-ever gangbang experience. Getting gangbanged has always been one of my biggest fantasies. Getting that fantasy fulfilled was the most amazing sexual milestone of my life. To top it all off, I got to experience my first [double vaginal] and [double anal].
When the moment came that I had two cocks in my pussy and ass, I went crazy. It was the most amazing and empowering feeling I have ever felt. I seriously had so much fun that day and had so many orgasms.
Just how involved were the scenes?
Everybody was involved the whole time. I had a great group of guys. The whole time they were all just trying to push my limits. That's what I love. That's what puahwa me to make every scene I do better than the last.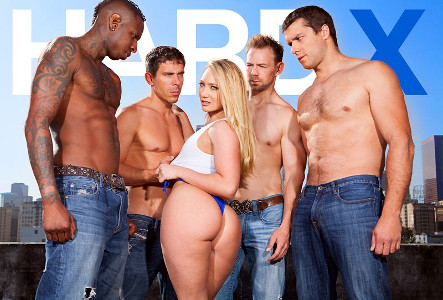 Was it challenging to handle so many men and penetrations at the same time?
It was a little crazy at first, but once we got going I just lost myself in the scene. I feel the more cocks, the better.
What are your future plans?
Right now I'm concentrating on putting out scenes. Hopefully I'll be feature dancing soon.
I would love to start directing in the near future. I have a lot of amazing ideas that I would love to share.