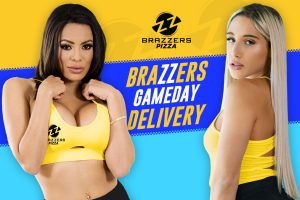 Miami, FL — Brazzers is thrilled to announce that one lucky group of Miami football fans will win a GameDay pizza delivery by contract performers Abella Danger and Luna Star on Sunday, February 2, 2020.
Since pizza delivery is an integral part of every major football event and a classic porn trope, Brazzers couldn't resist giving one lucky group of fans the ultimate Sunday Night fantasy.
Brazzers fans can sign up for a chance to win this once in a lifetime delivery contest on pizza.brazzers.com.
The contest rules are simple: entrants must be over 18, live in Miami, FL and be throwing a real GameDay party or gathering. Fans will have from January 21, 2020 at 00:00:01 am (EST) until January 26, 2020 11:59:59 pm (EST) to enter the contest. Five (5) finalists will be randomly selected by Brazzers on January 27, 2020 at approximately 12:00:00 pm (EST) and be contacted to confirm their eligibility.
Out of those five (5) finalists who are eligible under the Official Contest Rules, only one (1) lucky fan will be selected. The winner's identity will be kept secret until Danger and Star knock on their door that Sunday.
Star couldn't contain her excitement about the contest. ''I love meeting my fans so much, this is going to be even more crazy because it's a surprise!'' she enthused.
Danger expressed a similar feeling, adding: ''Imagine opening the door and seeing me and Luna with pizza! I can't wait, this is going to be amazing!''
Imagine, indeed. Be sure to follow Brazzers social media channels on GameDay to partake in all the fun.