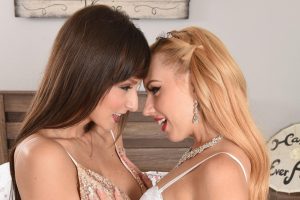 Los Angeles, CA — YummyGirl Network is pleased to announce the inclusion of brand-new content from Alicia Silver and 11:11 Customs, AliciasGoddesses.com. AliciasGoddesses features exclusive clips showcasing top stars Tori Black and Lexi Belle, as well as rising performers like Lexi Luna.
This content is available now at YummyGirl.com.
YummyGirl boss Sofie Marie hopes fans enjoy the just-released photos and videos, starting at only $5.99. Titles include Black's "Pink Dress and Bikini," "Cheer for Tori Black" and "Black Lingerie White Dildo," as well as Belle's "Lexi on Lexi" co-starring Luna.
"We've been fans of Alicia Silver for a long time, and we're excited to have her offering new clips for us," Marie said of AliciasGoddesses. "Look for more sexy videos and stills on our 21 sites, we've got all-new content coming in daily to keep our YummyGirl members happy!"
In addition to AliciasGoddesses, Marie also shoots made-to-order fan videos for YummyGirl Customs, sells promo gear and autographed DVDs at her YummyGirl Store and chats with fans on YummyGirlCams.com. Follow Marie on Twitter at @WickedYummy1.