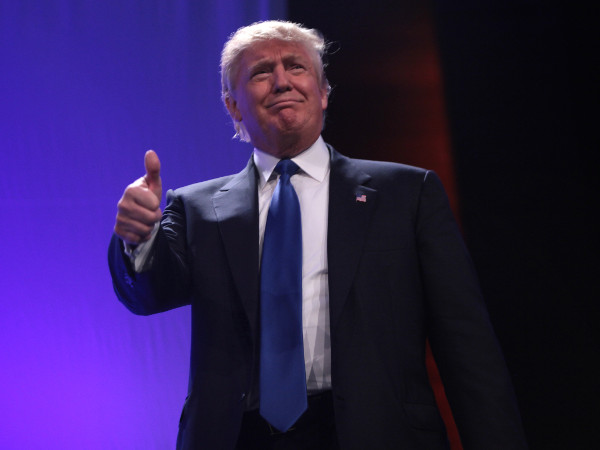 President-elect Donald Trump's surprise victory on Nov. 8 may be only the beginning of a series of surprises for the U.S., and particularly for the adult entertainment industry.
Then again, the industry may be able to look forward to another four years of relative peace, at least where obscenity prosecution is concerned.
Because Trump flip-flopped on so many issues during his campaign — and because many of the shocking statements he uttered may have been designed to curry favor with certain voters instead of revealing anything significant about his agenda — it's difficult to say what a Trump presidency may look like. We know, for example, that in August he signed a pledge to crack down on internet porn, but such promises carry little weight and usually represent nothing more than publicity stunts designed to pacify right-wing activists.
Honestly, who can predict the governing style of a rogue "Washington outsider" who refused to honor traditions by releasing tax forms and health reports, and based the bulk of his campaign on intimidation and name-calling?
First-Amendment and criminal attorneys who represent adult industry clients suspect they may have an inkling what the industry can expect.
"I don't think the adult industry will be specially targeted by Trump," said Lawrence G. Walters. "He did not mention the issue at all during the campaign, to my knowledge."
Joe Obenberger noted the same thing. The former officer on the Army Judge Advocate General's staff offered a bit more historical context.
"The election of Donald Trump will bring to the White House a businessman who's been selling pay-per-view porn in his hotel rooms for a very long time," Obenberger said. "If some accounts are true, he's at least once tried to get close to a porn actress, and it can't be disputed that he loves beautiful women and has at least a healthy interest in sex with them. He's been accused of serial adultery with each of his three wives, and I can't recall any strong denial of those things.
"He does not look or sound like the kind of moralist who would try to impose 'Christian family values' on anyone else by the use of state power against pornography through obscenity prosecutions," Obenberger continued. "He'd be hard-pressed to do that with a straight face."
While Trump himself may represent no clear and present danger to the adult entertainment industry, the people he appoints to cabinet positions and other leadership roles in the new administration very well might. On Wednesday, BuzzFeed News released a shortlist of 41 people under consideration for various posts. BuzzFeed claims it received the list from someone inside Trump's inner circle, who specified the list was by no means complete or finalized.
Of special note for the industry are the names under consideration for U.S. Attorney General: New Jersey Gov. Chris Christie, Florida Attorney General Pam Bondi, Alabama Sen. Jeff Sessions, and former New York City Mayor Rudy Giuliani. All are notorious conservatives who have faced at least one scandal during their tenures in office. All could represent a challenge for the adult industry.
Trump's "pick for Attorney General will be significant," Walters said. "We know Giuliani focused on eliminating adult businesses through zoning enforcement during his tenure as Mayor of New York City. So, he may direct some negative interest towards the adult industry if chosen as AG. The AG will set the enforcement priorities for the Department of Justice.
"Both political parties are currently focused on the 'War on Sex Trafficking' as the substitute for the failed 'War on Drugs,'" Walters continued. "That can have some bleed-over effect on adult website operators, as we've seen with the cases against escort advertising sites. This is the key issue to watch for the adult industry."
Obenberger agreed, to a point, but he also pointed out that "obscenity" is not as easily prosecuted as it once was, thanks to the ubiquity of online porn. Finding a venue where jurors might determine anything but the most extreme content "patently offensive" and devoid of "serious literary, artistic, political, or scientific value" could be next to impossible.
"It can be argued that the volume, popularity and topical scope of porn — especially of the free, tube-site variety — directly paved the path to sexting, hook-up culture and changes in actual sexual practice," Obenberger said. "Stuff that was fringe or infrequent before the tube sites now seems to be part of the expectations of many couples in intimate and private moments. Obscenity is, in at least two important ways, defined by 'contemporary community values,' and without offense to those values, no depiction can be criminally obscene.
"After eight years of a hands-off-obscenity policy by [President Barack] Obama's Justice Department — which has brought no new obscenity indictments during two presidential terms — coupled with the profusion of free, explicit porn of every niche, interest and orientation, it would be impossible to rationally deny that what is and what is not within 'contemporary community values' has been markedly changed in the direction of tolerance," he continued. "Material must approach 7 or 8 on the porn Richter Scale these days in the most-taboo areas of interest — such as serious BDSM, rape, necrophilia, scat, urine or pain — to generate much alarm."
In addition, Obenberger said, Trump is a businessman. He respects the value of the time and money…or so it's been said. In any case, he repeatedly berated Washington for fiscal irresponsibility. That is almost certain to play into his administration's pursuit of federal criminal cases in general.
"A very wide range of once-shocking porn today has a near-zero chance of obscenity conviction, and the chances of a conviction even in some extreme material is dicey," Obenberger said. "One can reasonably expect that U.S. Attorneys, the Attorney General, and if necessary the President, would be competently advised about these low odds. I think that this history has a more important role in predicting the possibility of prosecution than the personal attitudes of any Attorney General or President. I'd be surprised to see the expenditure of government resources under [Trump's] stewardship in any attack on the adult industry."
In fact, Obenberger said, he thinks one aspect of Trump's presidency may work out well for the adult industry.
"I expect Trump to rescind many executive orders related to social change and to workplace regulation in a direction that will facilitate small businesses and ease the burden on them," he said. "I suspect this is likely to play to the advantage of adult businesses, in general."
Image ©2016, Gage Skidmore.