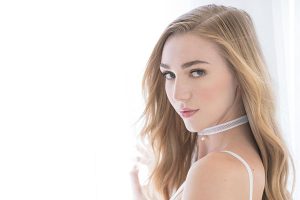 Kendra Sunderland started working in the adult industry approximately three years ago, her career taking a somewhat meandering path to present day.
She started out as a cam model. Then, in 2015, a clip of her masturbating in the library at Oregon State University (where she was then a student) went viral — but not "good" viral. She was arrested, paid a fine of $1,000 that went to the college and narrowly avoided being registered as a sex offender. As a result of this "scandal," Sunderland was dubbed Library Girl. From there, she did a steady stream of appearances, including feature dancing, trade shows and a lot of media.
After a handful of recordings for ftvgirls.com – "Those were nothing," Sunderland explained. "It's just someone recording webcam shows of me playing with myself. I don't consider them full-on scenes or anything." – she began shooting content with renowned director Greg Lansky in 2016.
"I wanted to try something new for my career, and I had just hit a stopping point," she explained. "I didn't really know what to do to keep moving forward, and I wanted to try [porn] at least once in my life. When Greg contacted me, I decided to take it."
Sunderland's career immediately took another leap forward. She shot high-end, artistic erotic content exclusively with Lansky and was tapped as the first Vixen Angel of the Year, reigning through 2017.
Then, in an unexpected twist earlier this year, when Sunderland was all but at the top of the porn game, she abruptly announced her retirement via Twitter.
In short, she wanted to go out on top and return to school:
The raw truth about why I'm leaving porn… and I'm only gonna say it once so here it is!! On to new things!! 😍 pic.twitter.com/7RSADddyBC

— Kendra Sunderland (@KSLibraryGirl) January 20, 2018
We recently sat down with Kendra Sunderland, getting the scoop on everything from altering her career trajectory to her love of animals – all of which are very relevant when navigating the uncharted waters of a very singular career.
YNOT: What factored into your decision to work with Greg Lansky?
Kendra Sunderland: When I started working with Greg, I really liked his professionalism and just the way that the crew treated me and everything. After my first few scenes, he wanted to put me on contract and I was happy to do so.
I don't mean to talk bad about other companies, but once you work for Greg and you get used to that standard, I don't think I would have had a good time going to another company or working for somebody else. I really liked the way that he portrayed me and the classiness and just everything.
And I didn't want to go from working with him to some company that's going to put me in $10 lingerie and not really care about my wellbeing or wipe my feet with baby wipes. It's just that, working with Greg is a whole other level than anything else.
What prompted your decision to go back to school?
I knew that I didn't want to be in the industry for a long time when I started, and I had hit another stopping point where I was like, "I've done everything that I wanted to do. I have a showcase, I have a Fleshlight, I've won awards — I'm good, I don't need anything else."
So, it was just a moment where I realized I didn't want to do another year of this. Then I just thought about what makes me happy and what do I enjoy most out of life, and that's being with animals and helping them. So, then I thought of the school I wanted to go to, and it all kind of just fell into place.
I decided I wanted to shoot one last scene for BlackRaw, and then I counted up all of my scenes and my very last one will be my 20th. So, I feel like it's all kind of meant to be, that it all kind of fell into place this way.
I definitely don't want to stay in and burn myself out. This industry is one of the hardest things to be in if you don't want to be in it. Like, if your head's not there, it can be very very hard. Now I'm just excited and grateful that I have the opportunity to start a new chapter and the freedom to do what I want.
Are you nervous about going back into the "civilian" world?
I'm not nervous about it at all. It's mostly just on social media [where people behave inappropriately] and, like, when famous people like Chelsea Handler group [porn performers] into a category with rapists and child molesters and stuff like that. It's kind of irritating for people to give us such a bad rap.
I shot some pictures for PETA recently, for their T-shirts, and when they posted me I just wanted them to turn off the comments. People were like, "Oh, but she's a porn star," and "Oh, do they know she's a porn star?!" and like all that stuff. It's really annoying – like, what does that have to do with me not eating animals?
It's just irritating because when you understand that porn is something everyone enjoys, it's not a big deal. People will be judging [performers] but then also will be watching our work and getting off to it — and that's the whole point of why we do our work. It's for that.
Do you find it ironic or irritating that people like Chelsea Handler feel passionate about their own sexuality expressions, but judge you for yours?
Yeah, and also a funny thing is people will judge [performers] for selling our bodies. But it's like, I place a value on my body and that's not the worst thing to do because there are people out there giving it away for free.
So if I say, "You need at least a thousand dollars to have any part of my body," then people will hate on me for that — but then they'll go out and give it for free. It's like "Why are you hating on me for placing a value on my body when you also place a value on your own body — your value is just 'free' though?" Just because you don't get money for having sex doesn't mean you're not placing a value on your body. You are. Your value is just zero.
Let's go back to animal rights activism. You're a passionate and public animal rights activist…
I feel like I've definitely gone on Twitter and made it very public that I'm vegan and the way that I feel about it. So actually, it's just kind of a part of me now, but I get some people don't really like to hear it or they feel like we shame them.
If people want to eat meat, that's their choice – like the "circle of life" [argument] or something. That's fine, but the kind of abuse we see in slaughterhouses because we have to mass-produce animals because there are so many people on this planet, that's what I'm not okay with. It's abuse. People will cry about dogs getting abused or cats getting abused, but what's the difference between a dog or a cat and a farm animal? Just because we kill it afterwards to eat it, does that mean that all of a sudden it's okay to cut off a pig's tail or break their legs or hit them? It's not.
How much of your personal interests – like your commitment to supporting animal rights — have made their way into your public-facing brand? Does the fact that you use your legal name for work complicate this?
I definitely feel like it's a good feeling for your brand to be who you are. I mean, there's also a good feeling that must come from having an alternate persona, but it feels really good to have everything that you put out there for your fans and stuff to be just you.
All of my work is connected to me, and it's just who I am. I definitely feel like there is a difference in some ways though. I mean, like, I definitely put out a sexual, super fun image but, like me personally, I'm just the most chill person that you'll ever meet. I'm very introverted, and I'm not super out there dancing and pulling my top off and trying to suck everybody off. That's not me, but that's the role that I play for my fans because I want them to see me as a super sexual person.
So, I mean, it's not hard to keep the two things separate, but it's definitely still a part of me because it is my real name and everything.
Find Kendra Sunderland on Twitter at @KSLibraryGirl.
Mood AF @blackedraw with @iamjasonluv pic.twitter.com/gYJYgXGkRg

— Kendra Sunderland (@KSLibraryGirl) February 16, 2018