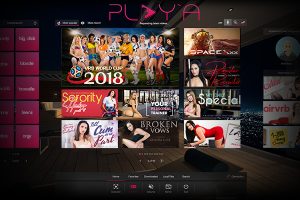 One of the premium virtual reality porn moviemakers, VR Bangers has long provided fans with a highly functional player. Times, however, have changed, necessitating an upgrade to their original VRB Player.
As such, VR Bangers is pleased to introduce their upgraded and re-branded app, PLAY'A.
The new version of the application features an entirely new user interface and VR environment. Thanks to its timeline option, it is now possible for viewers to skip the intro and browse to their favorite position, as well as quickly jump into the content's "pop shot" moment — the most anticipated sequence of every VR porn film.
PLAY'A also allows viewers to manipulate settings like tilting, scaling, height, aspect ratio and even color adjustment (brightness, contrast and saturation) of a VR porn experience. The app boasts a realistic head tracking technology, so all of the aforementioned features can be set-up with convenience and in an easy, straightforward way.
"How many VR porn studios have their own VR players? Exactly!" said VR Bangers' CTO Boris Smirnoff.
"We were the first and the only to offer such service to our fans and, as we wanted to keep on raising the bar for our members, we thought that it was right about time to update the application and provide it with some modern functions and an entirely new interface that will make it even more convenient. It took some time and resources, but it definitely was worth the effort!" Smirnoff continued.
"The biggest problem with the immersion experienced during watching some VR porn films is that we can't take care of everything from our side," said VR Bangers' Producers Xander Jones.
"We can make sure that our VR porn films are as good and high-quality as possible, but apart from that it is all in our viewers' hands. With the introduction of our sophisticated app, we took care of another factor, taking control of even more incentives affecting the immersion experienced by our fans – and to us that is exactly something a professional VR porn producer should think of when trying to provide a full premium service," Jones added.
All of the VR Bangers films watched through the app are available in the highest acquirable virtual reality resolution – meaning going up from 4K through 5K and even 6K ultra high definition in smooth 3D 60 FPS. The movies are separated by sexual positions and categories that they apply to, letting users watch them both online and after downloading them to their devices. PLAY'A also supports third-party VR videos in 180/360° 3D up to 8K ultra high definition – and all of that is possible even if you don't have a VR headset, as the app works both with the desktop and mobile devices. There is also a "panic mode" for those who can't be sure of their safety during their sessions with VR porn.
"Some people ask me, why do we even care so much? That's funny," said VR Bangers' CEO Daniel Abramovich.
"We do such things because we care. The VR Bangers' mission have always been to be the best and to think differently from other studios. Thanks to the PLAY'A app, our users will be able to enjoy our virtual reality porn in an easier and more convenient way than ever before – and that is exactly something that fits the style and the initial mission of our company," Abramovich added.
To download the PLAY'A app for smartphone, Oculus Rift, HTC Vive, Gear VR, Oculus Go or Windows Mixed Reality, simply go to vrbangers.com/app.