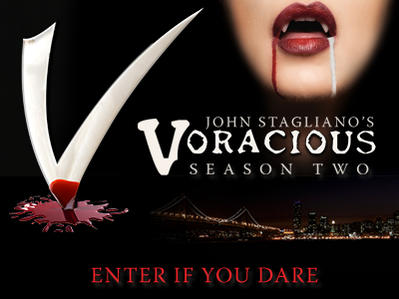 LOS ANGELES – The second season of Voracious, John Stagliano's award-winning epic vampire web series, will bow online on Halloween.
"Oct. 31 is always a day to celebrate scary costumes, dirty tricks and sweet treats," said a spokesperson for affiliate program FameDollars, which manages EvilAngel.com, the online home of the series. "This Halloween those traditions come together with erotic thrills in porn legend John Stagliano's newest XXX creation as Voracious Season Two makes its exclusive debut on the membership site."
The second season will be presented as the critically acclaimed first season was, in multiple online instalments. Starting with the Halloween debut webisode "It's Dangerous Out Here," EvilAngel.com subscribers will receive first access to each chapter.
"I am lost in the delusion that people might want to see my porn expressed in a story, perhaps involving them on the most visceral level," Stagliano said. "This looks different. It's dark. You may think the camera moves too much. I know it does. But this is what I was trying to shoot."
"It's Dangerous Out Here" stars lusty blonde Anikka Albrite, Stoya, James Deen and Wolf Hudson. Stagliano couldn't stop himself from dropping hints about the depravity in store for viewers.
"San Francisco is a great place to find sexual adventure," he said. "Anikka Albrite makes the mistake of succumbing to James Deen. If only eternal life was really eternal. Vampires do have a weakness."
Shot in California and Eastern Europe, Voracious Season Two also boasts the performing talents of Lea Lexis and Skin Diamond.
"From a marketing point of view, Evil Angel has paved the way for a new approach to releasing big movies," said General Manager Christian Mann. "We were the first to release a movie in serialized webisodes as a huge value added to our online membership. The anticipation for each new episode was palpable.
"When the last episode aired simultaneously with the release of the deluxe DVD set, we found that many fans had purchased both," he continued. "For Season Two, we're adopting that same approach, but with an additional tier: a special set of multi-episode mini-premieres for third-party video-on-demand. We're offering something exclusive for our partners in every distribution platform."
According to Stagliano and Mann, Season Two maintains the artistic, technical and erotic standards achieved in the first season, when monthly Voracious webisodes built an online buzz that led to 17 AVN Award nominations. Among the project's wins was the statuette for Best Web Premiere.
AVN wasn't the only Voracious: The series also was named Best Epic by the X-Rated Critics Organization.
"Having seen the popularity the first season of Voracious generated amongst our members, I was really happy to hear that John [Stagliano] was continuing with a second season," said FameDollars Director Magalie Rheault. "Having an exclusive window on EvilAngel.com is the cherry on top for our members. We're proud to be working with Evil Angel in bringing this outstanding movie to their official website.
"Of course, anyone who would like to send traffic specifically to Voracious Season Two will have access to special promo tools at FameDollars.com and can contact us directly for more custom promo material," she added.
FameDollars, a division of Gamma Entertainment, pays $35 per sign-up or as much as 50-percent recurring revenue share. For answers to questions or to discuss customized collateral, [email=derrick@famedollar.com]email Derrick[/email].