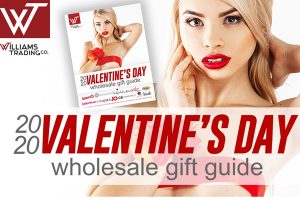 Williams Trading is pleased to announce they expanded the product offering in the newly recently released Valentine's Day Essentials Catalog now featuring over 10 specialized Valentines day assortments including Panty Vibes, Lipstick Vibes, Games, Bath Bombs, Body Misters, Naughty Candy, Pasties, Edibles, Romance Kits, Massage Oils, Perfumes & Body Scents and Pheromones.
"We are encouraging our retailers to stock up now as we anticipate a surge in sales during the Valentine sales season," says Rich Pyne, VP Sales. "Our hand-picked items encourage romance, massage and couples intimate fun and are great for introducing customers who are new to adult products."
Whether it is to spice up life in the bedroom or to make their next party a hit, every item in these 10 special categories encourage couples to play, be romantic and fun – a perfect recipe for increasing their personal intimacy experience.
This Valentine's Day Essentials Guide highlights the more unique products available that are a perfect gift for that special someone, such as the sleek and stylish vibrating panty sets from Panty Rebel, available in a sexy bikini cut (EDCPR003) or a cute and lacey boy short (EDCPR001). Or maybe customers would like to try a sexy twist on a classic board game with Sexopoly (CRESEXOP).
Best of all, all of the gifts featured in this guide can be recommended to consumers singly or in various combinations, effectively building up sales – and ensuring that each customer has all the ingredients for a truly special night.
In support of retailers, Williams Trading Co. has created a custom digital flip snack catalog that highlights popular gift items for the Valentine's Day holiday, allowing retailers to shop each category with ease.
Whether sexy or sweet, classy or playful, our gift guide is targeted to ensure that retailers have plenty of options for their customers.