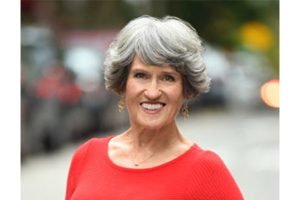 Humans are sexual creatures, even as we age. Interestingly, sex and aging is one of the most oft-overlooked and underexplored areas in sexpert/sex education land. (Drug companies don't count.)
"Sex changes as we age, but for every problem, there is a solution!" Joan Price, a "senior sexpert," states on her website. Price, an advocate for ageless sexuality and author of three books about senior sex, is one of very few experts in her area.
"We're redefining this aging stuff with solid information, creativity and a sense of humor," Price continued. And with books like The Ultimate Guide to Sex After 50 and Naked at Our Age, she seems to be workin' it.
And her efforts may be having an impact, even in the advanced aging population often found in nursing/care homes. The woefully titled article from RT.com — "Nurse's sex guide: Rambunctious elderly given help to masturbate & download porn by care homes" (yes, "rambunctious") — speaks to efforts to engage sex and aging in the UK's elderly.
According to RT, UK nurses are being issued with guides on how to help elderly patients download porn and carry out sexual relationships in care homes. Though helping out patients with questions about their changing bodies and sexual abilities doesn't seem too out of line for nurses' duties, this is a pretty big deal.
The guide, put forth by the Royal College of Nursing and titled "Older people in care homes: Sex, Sexuality and Intimate Relationships," is a reminder from health authorities that elder patients are still also humans. And humans, as we know, are sexual creatures.
The guide summary states:
This guidance has been developed to help nurses and care staff work effectively with issues of sexuality, intimate relationships, sexual expression and sex, particularly people living in care homes. Its aim is to facilitate learning, support best practice and serve as a resource to help nurses and care staff address the needs of older service users in a professional, sensitive, legal and practical way.
It offers information about helping consenting adults living in a care home situation engage in sexual activity, advising that people with the mental capacity to enter into a sexual relationship should be allowed to do so without interference from care staff, well-meaning or otherwise. There are also sections discussing how staff can arrange for patients to watch porn and masturbate privately.
There are many anecdotes in the guide that illustrate what care nurses may be faced with, with suggestions regarding how to best handle them. The guide details how nurses are often faced with patients requesting sex toys and medication to help combat erectile dysfunction. In one case, an elderly patient is helped to buy a laptop and download adult content legally. (The fact that the Royal College of Nursing is also mindful of piracy is awesome.)
One case study discusses an incident where a married man patient enters into an affair with a woman in a care home.
"[The man] tells staff that 'under no circumstances' are they to let his wife know about [his partner]," the guide states. "This is a concern to staff as [the man's] wife visits him every Tuesday, and they feel embarrassed that she does not know."
The guide instructs nurses to respect the patient's wishes – because just because old dudes are dogs, that doesn't mean they are children. Refrain from moralizing is advised.
"The staff do not have any basis on which to inform [the man's] wife, as this would be a breach of his privacy and there are no safeguarding concerns," the guide states.
The Royal College of Nurses hopes that the handbook will help people who live in a care home to "have the same rights, choices and responsibilities they enjoyed at home provided that these do not impinge upon the rights of others."
Here's hoping!
Image of Joan Price via her website JoanPrice.com.