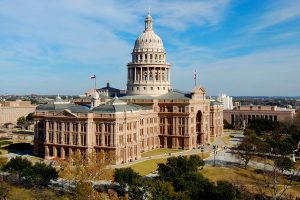 AUSTIN – Texas State Rep. Morgan Meyer (R-Dallas) has introduced a bill which would create "the criminal offense of unlawful electronic transmission of sexually explicit visual material" in the state.
Under the bill, H.B. 2789, an offense is committed if a person "knowingly transmits by electronic means visual material that… depicts any person engaging in sexual conduct or with the person's intimate parts exposed, or… covered genitals of a male person that are in a discernibly turgid state, and… is not sent at the request of or with the express consent of the recipient."
If the bill were to become law, the offense would be a Class C misdemeanor, which under Texas law is punishable by a fine of up to $500.
"Time and time again we hear stories of this sort of harassment, and it's time for a solution," Meyer said of the bill. "Sending a lewd photo to someone that has not requested it – or someone you don't know – is no different than exposing yourself to a stranger in public or performing other lewd acts. This is becoming a bigger issue among our teenagers and young adults, and while it seems less egregious since done over text or email, we must establish that this is not acceptable by making it a punishable offense."
Meyer reportedly worked on the bill in conjunction with representatives of Bumble Trading Inc., the Texas-based company behind the Bumble dating app.
"A considerable amount of our lifetime is spent online – especially young adults – yet the digital world has fallen short in protecting us there," said Bumble CEO Whitney Wolfe Herd. "What is illegal in the real world must be illegal in the digital world, and this legislation is a first step in the right direction in adding that accountability."
Wolfe Herd added that Meyer's bill would help create "much-needed change for future generations."
While the appeal of outlawing the unsolicited sending of dick pics might have a strong appeal those who have received such, some critics suggest adding language to the bill which narrows its scope may be needed for it to avoid running afoul of the First Amendment.
"What do you do about art? We have plenty of people who use their bodies as a freedom of speech," noted David Guinn, an attorney at the Bullock-based firm Hurley & Guinn. "Likewise, what about explicit photos from medical journals? The bill will have to be very specific in its direction."
Meyer's bill has not yet been referred to committee, so it's not clear whether amendments to its text – like the narrowing construction Guinn suggested the bill needs – will be proposed or adopted. At this time, it's also not known whether the bill will advance out of committee for further debate or to be voted upon by the House.
Texas State Capitol Image by LoneStarMike via Creative Commons Attribution 3.0 Unported license