YNOT – Top-tier adult star Tera Patrick recently joined performing French-Canadian sisters Roxy and Shana Lane in Montreal for an adrenaline-packed day of guns, fast cars … and stripping. Not ones to miss an opportunity to expose their private lives on the web, the sisters filmed the encounter.
Released Tuesday on LaneSisters.com, "24 Hours in Montreal with Tera Patrick" is part of the new Real series produced by Gamma Entertainment's recently launched OpenLife project.
"OpenLife Real takes cameras off-set and into the lives of some of the world's wildest adult performers," said founder Claude Hyppolite. "In this specific episode with Tera, you get a glimpse of the fun, fast, thrilling lives these girls live on a daily basis."
A sneak peak (NSFW) is available here.
The episode was filmed in three parts. Part One focuses on the girls at the shooting range, where the Lane sisters, Patrick and a few other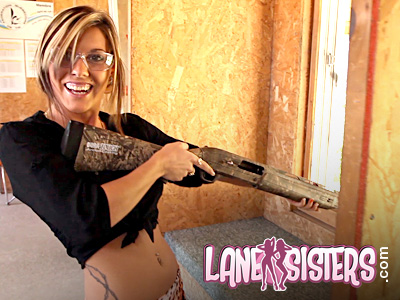 participants in the OpenLife project shot big guns in six-inch heels and miniskirts. Part Two follows the girls as they race luxury sportscars, including a Lotus and a Ferrari F430. In Part Three, everyone tours Montreal's Old Port before following Patrick to a feature-dancing gig at Montreal's infamous Solid Gold club.
LaneSisters.com is part of the OpenLife affiliate network, which pays up to 50 percent recurring revenue share or as much as $30 per sale. Customized promotional materials are available by request.