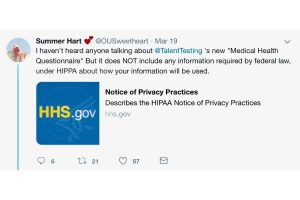 Summer Hart recently took to Twitter via @OUSweetheart to call out some procedural behavior occurring at Talent Testing Service (TTS) that she perceived as new and potentially problematic.
Tweets documenting her observations — posted originally on March 19 and reposted in full below — state:
I haven't heard anyone talking about @TalentTesting 's new "Medical Health Questionnaire" But it does NOT include any information required by federal law, under HIPPA about how your information will be used.
The questions on it really strange, vague, and confusing, and I emailed @FSCPASS and @TalentTesting to ask why they didn't include the information. They told me they were HIPPA compliant, but, I know as someone working in a medical office, you are required to disclose to patients
Where their information goes, who sees it, and what can be shared with others. Their forms have no disclosure notices. How can performers have any idea who they're sharing information with. Companies? Other performers? The entire pass data base?
The problem is that we wouldn't and don't know, because no one has provided any information at all on the subject, and people are signing it and handing over their VERY PERSONAL info to @TalentTesting bc they trust them.
Worse than that, they are telling people that they must disclose this information in order to get tested, but do not tell performers where it will go, why they need it but never needed it before in the years I've been going there.
More than this, the questions that were asked were things like do you have any medical conditions…any? Why would the TT doctor need to know about your bipolar diagnosis? They ask if you're having "crossover" sex. WTF does that mean? Who does that apply to?
Just a thought, but I will be demmanding to know where my information is going, who can see it and how it is being used, like federal law says I have the right to. We need disclosures. @TalentTesting @FSCPASS @FSCPASS
I will be demmanding that all performers receive disclosures as well. This is an issue @FSCArmy should care about.
Hart received a response from Talent Testing via email, which she also shared on Twitter.
An update to this, @TalentTesting is putting the appropriate HIPPA disclosures on the paper forms and their site bc of people's responses. I know people expect it to be good enough to "talk to someone" but it's really should be disclosed this way. https://t.co/dNn0czPzzv pic.twitter.com/w67GjLZJ3e

— Summer Hart 💕 (@OUSweetheart) March 20, 2019
At publication time, this appears to be TTS's public responses:
From Sixto Pacheco: TTS abides by HIPAA regulations. Always has and always will.

— TalentTestingService (@TalentTesting) March 20, 2019
The following is from a TTS employee:
💥 For those of you who are unsure of @TalentTesting's HIPAA and privacy policies please feel free to visit our website and read them 💥https://t.co/wg8Ayywht7

If you have further questions or concerns call us or email us all our info is provided on the website. pic.twitter.com/4UVSJWLyiT

— Maria Bolton (@VampireFaery) March 20, 2019
Hart was not the only person to question the new additional medical health questionnaire. Many members of the community weighed in on Hart's original thread. Performer Madeline Marlowe also received the additional questionnaire, which she also questioned.
On March 20, Marlowe tweeted:
Admittedly I was in a rush & just flew through it & didn't really think abt it until later. The questions felt very strange & I looked over at @willhavocxxx & was like this crossover question is making me super uncomfortable. Like u said, wtf does this mean, where does this go?

— Madeline Marlowe (@MaitresseM) March 20, 2019
Similarly, performer jessica drake questioned the request for additional information. One March 21, drake tweeted:
so, i just got tested for an upcoming shoot and i was asked to fill out an "additional" medical questionnaire…has any other performer recently had this experience?

— jessica drake (@thejessicadrake) March 21, 2019
YNOT will continue to follow this story for developments.