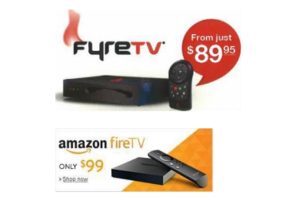 MIAMI – In a report filed yesterday, U.S. Magistrate Judge Jonathon Goodman recommended that the trial court grant Amazon's motion for summary judgment in Wreal LLC v. Amazon.com Inc, a case in which the makers of FyreTV allege trademark infringement by Amazon in offering its Amazon Fire TV service.
Throughout his analysis, Goodman focused on how unlikely it is that consumers would be confused by the similar marks at issue in the case.
"In short, although likelihood of confusion is generally a question of fact, it may, in certain appropriate circumstances, be decided as a matter of law at the summary judgment stage," Goodman wrote. "And this case is one of those times. That is because Wreal has not presented sufficient evidence for a reasonable fact-finder to find that 'an appreciable number of ordinarily prudent purchasers' will somehow connect Wreal's hardcore pornographic FyreTV service with Amazon."
In his report, Goodman cited Matsushita Elec. lndus. Co. v. Zenith Radio Corp to note that a party opposing summary judgment in such a case "must do more than simply show that there is some metaphysical doubt as to the material facts."
"Yet 'metaphysical doubt' is all that Wreal offers," Goodman wrote." Wreal offers (a) no evidence of actual confusion, (b) no survey evidence in its favor, and (c) no evidence that Amazon markets Fire TV to customers interested in streaming hardcore pornography."
Goodman also observed that since the case was first filed in 2014, many of the undisputed facts considered by the court almost five years ago have not changed.
"For example, Amazon has not suddenly decided to advertise on adult websites, permit pornographic apps, or repeal the content policy that prohibits pornography on Amazon Instant Video, which streams to the Amazon Fire TV," Goodman wrote.
The section of the order dedicated to "undisputed facts" contains several items which clearly influenced Goodman's assessment of Wreal's claims – and in the judge's view, undermine the argument that Amazon's Fire TV product could be said to have damaged FyreTV's position in the market.
"Wreal's FyreTV exclusively offers pornographic content, not mainstream movies, and most of its offerings are hardcore pornography," reads one of the examples on the list of undisputed facts. Another item notes that "Wreal has lost money every year from its founding in 2007 to the present" and "Wreal's revenues started declining in 2012, before the launch of the Amazon Fire TV."
Goodman wrote that Wreal's primary argument "can be summarized by the introduction it used in its proposed report and recommendations."
"Wreal alleges that Amazon's use of the Fire TV mark is likely to cause reverse confusion," the quoted introduction begins. "Notably, Wreal does not allege that consumers will mistake Amazon's Fire TV for its FyreTV as being the same thing. It does not allege that consumers will visit Wreal's website and think they are visiting the amazon.com website. Instead, Wreal alleges, and there is sufficient evidence for a reasonable jury to conclude, that Amazon's use of Wreal's mark creates a likelihood that consumers will believe that Amazon is the source of Wreal's FyreTV service, much like Amazon is the source of organic groceries purchased at Whole Foods, even though consumers do not think Whole Foods and Amazon's website are the same thing."
Goodman rejected this argument in the context of the facts present in Wreal's complaint however, asserting that "likelihood of confusion is more than the mere possibility that some consumers may be confused at some point."
"The relevant test is likelihood of confusion, not mere possibility of confusion," Goodman wrote. "But, as analyzed below, Wreal has shown, at best, a 'mere possibility' of confusion – the speculative possibility that somehow, somewhere, some not-yet-identified group of consumers will encounter Wreal's FyreTV hardcore pornography service and think that this service must be associated with Amazon. Yet there is no record evidence from which a reasonable fact-finder could conclude that 'an appreciable number of ordinarily prudent purchasers' are likely to be confused."
The case now heads back to the court of Judge Joan A. Leonard for her to rule on Amazon's motion for summary judgment, pending objections and responses from the parties to his report recommending summary judgment be granted. In a footnote to his recommendation, Goodman wrote that due to the length of his report, he has expanded the 14-day deadline for those objections and responses to 30 days.
Image of FyreTV and Amazon Fire TV marketing materials via Judge Goodman's report