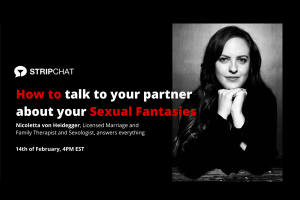 This Valentine's Day, cam platform Stripchat is helping fans improve their real-life relationships with a free, live cam session with relationship therapist Nicoletta von Heidegger — and the launch of the cam industry's first Sexuality Resource Center.
The stream, "How To Talk With Your Partner About Your Fantasies," focuses on improving communication about issues like fetish, sexuality, intimacy and cam use. The cam session is free to any visitor to the site, and will be archived — along with previous live streamed sessions on porn addiction, masturbation shame, HPV and online infidelity — at Stripchat's new safe-for-work Sexuality Resource Center.
"This Valentine's Day, Stripchat can help save your relationship," says Max Bennet, Vice President at New Media at Stripchat. "Many cam users come to Stripchat because they aren't able to engage fantasies at home — a secret than can silence desire and become toxic. The upcoming session with Nicoletta is aimed at helping those people better speak with their partners about their sexual needs — including why they visit cams."
Stripchat began offering free cam sessions with relationship therapists in August as part of a pilot program, after an internal user survey showed that more than 25% of cam fans had experienced relationship conflict over cam use. The sessions immediately proved wildly popular, with nearly a quarter of Stripchat users saying they want the program be expanded.
LA-based von Heidegger comes to Stripchat through a unique relationship with the Sexual Health Alliance (SHA). She is the second therapist from SHA to to use the platform to educate on issues of sex and sexuality. Dr. David Ley, a clinical psychologist, first appeared on Stripchat in August 2019. As with Dr. Ley, Nicoletta's stream will be archived and hosted at the Sexuality Resource Center.
Dr. Ley will follow von Heidegger's stream with his own, "What Do Your Fantasies Mean?" later in the month.
"This is the first phase of a massive initiative Stripchat will undertake this year, helping our users become reconcile their online and offline lives," says Bennet. "We see our cams, which reach 60 million visitors each month, as a platform for healthier sex and sexuality. It's not just the right thing to do, it's good business."
CONTACT:
Max Bennet
Vice President of New Media, Stripchat
max.bennet@stripchat.com