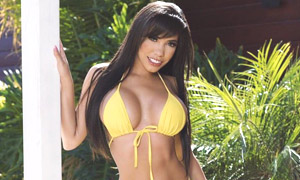 It was her first time at Exxxotica NJ as a free agent and that newfound freedom brought a new, freewheeling Shay to the floor of the show and her happiness and tranquility quickly turned into a the most friendly, playful and all-around ecstatic.
"That was about the best I have felt all year long," Shay said. "To finally be out there, free, hanging out with and meeting so many truly amazing people, spending the weekend with the Team Texass crew, it was really fun. It was something I really needed. I am already thinking about going back next year!"
Shay recently began booking herself, leading to an uptick in shoots and opportunities.
"I was sure that things would pick up once I was free, but it's been even better than expected," Shay said. "I knew there were a lot of people out there who would like to shoot me, but I didn't know just how many. It's been amazing!"
The XXX Puerto Rican Princess stars in Bang Bros new My Dirty Maid 10,a scene with Ryan Mclane. She plays a maid who cleans a lot more than the room and is no doubt going to get in trouble for spending so long "cleaning" one room. But that's Shay. She's a rebel.
"I don't mind cleaning up after a guy a bit if the sex is good enough, and this sex was good enough!" Shay said. "Ryan was amazing, and I didn't mind cleaning the room or his cock and so much more. It was fantastic!"
The former swinger and sexual adventurist (just listen to the Trickykid podcast (info below) or read any of her books of erotica) this year starred in such movies as My Latin Lover (NubileFilms.com), Lubed Up Latina (RealityKings.com), "Latina Snack" (Mofos.com), Career Sluts 2 (Brazzers), Art of Romance 6 (Mile High) and "Bodyguard" (FuckingAwesome.com).
Shay was on the episode69 of the Trickykid podcast, which went up last week. Host Roy Turner got some absolutely mind-blowing stories out of the starlet that will interest anyone who loves crazy stories from sexy women.