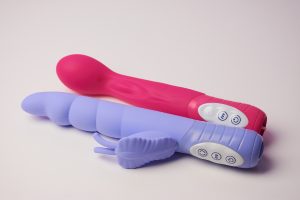 We no longer live in a time where sex toys are nasty implements of perversion meant to solely be kept at the stores people visit in the least in your hometown. These toys are now made with the same level of craftsmanship and commitment to safety that is applied to most consumer goods. This is a great thing for the general population since this focus on being respectable & worthwhile products is quickly eroding a lot of the stigma surrounding sex toys and giving us some seriously cool gadgets to play around with. The fact that they also help us reach tantalizingly powerful orgasms we thought not possible is just icing on the cake.
What should you expect in 2020 in the wide world of sex toys? Let's get down to it:
More Specialized Sex Toys: For reference's sake, I'll just let it be known that Fleshlight first came onto the scene around 1996. It's been a full 24 years since that day, your standard male masturbator just won't make waves like it used to. The same applies to the run of the mill vibrator or dildo, it's just been done to death by this point. Manufacturers now have a lot more data as to what people are looking for as far as sexual stimulation from toys is concerned, that means there's a lot more different types of toys available. The sheer variety of specialized male sex toys is constantly expanding, while we at first had Fleshlights and traditional male strokers (pocket pussies). We're now seeing a lot more specialized toys and even automated toys such as automatic male masturbators, blowjob machines, prostate massagers, etc.
This also applies to vaginal toys as well. In the beginning, we had bullet vibrators, wand vibrators, clitoral vibrators, etc, we're now seeing more specialization within those categories. Clitoral vibrators meant for a more gentle & pinpoint touch, g-spot vibrators with adjustable curvatures, that sort of thing. As the year drags on, expect a lot more sex toys meant to scratch very specific itches.
High Fidelity VR Porn Experiences: The desire to replicate sex on demand using technology goes back to the first mention of the Holodeck on Star Trek, or probably even to some of the very first fantasies of technologically inclined individuals. Now our level of sophistication with VR experiences is making that dream an accessible reality for thousands worldwide. With the advent of low-cost standalone headsets like the Oculus Quest or some of the headsets that work with a smartphone, the visual portion of the sexual experience is a lot more true to life. Sex toys that can sync to videos to provide physical feedback is what's really on the horizon in 2020. Right now we have toys like the Kiiroo Onyx 2 that makes use of ten inner rings that can expand & contract based on what's happening on screen & the Fleshlight Launch that automatically moves a stroker up and down. Expect a lot more toys that can replicate a lot more sensations inspired from porn videos moving forward.
Bluetooth & Internet Enabled Sex Toys: In a world of Smart TVs, Smart homes, and even Smart toasters, it was only a matter of time until we had Smart vibrators & masturbators. What these toys do is that they pair to your phone using Bluetooth and can then be controlled by an app. On a smaller scale that just means that as a user you have a much higher level of control over the patterns/intensity of your toy plus you don't need to actually touch it while in use. Large scale however the implications are much, much wider. Long distance couples can connect over the internet and control each other's sex toys to help full physical intimacy gaps during extended periods of time away from each other. Cam girls are now hooking up these toys to whatever website they use so their viewers can be a part of what's happening on screen. In 2020 you should expect a lot more Bluetooth enabled toys and a lot more avenues for exploring all they can provide.
Body-Safe, Body-Positive: Now that earlier point I made about how sex toys used to be relegated to grimy sex shops was largely in part to what kind of practices were typical in the creation and marketing of these toys. Lots of them were made from whatever leftover materials bigger industries had lying around or just plain old unsafe & cheap materials that could be mass produced. Part of the advertising copy for these toys also tended to prey on people's insecurities as well as lean towards the misogynistic side overall. That's evolving more and more with every year. Body-safe materials like silicone are a mainstay in the luxury sex toy industry and special formulations of things like ABS plastic are coming out all the time to allow people to use these toys without being exposed to toxic chemicals. The focus is on making these toys unable to become breeding grounds for bacteria as well as not leech harmful chemicals into the body. A lot more focus is being placed on presenting these toys in a body-positive manner as well. That means no references to the toy "not needing to be taken out to dinner first" as well as making toys that work for all shapes & sizes of human beings.
Final Thoughts: Those are the four most pressing trends currently coursing through the sex toy industry. I personally expect a lot more growth as the years keep going on, since each year that passes sex toys are becoming less skeevy which in turn makes them more justifiable to more people. So there's a feedback loop happening where better sex toys being released is making more people willing to give them a shot in the first place. Currently, integrating sex toys with more modern technology and appealing to shifting consumer conceptions about sex toys drive nearly all of the trends we're seeing today.