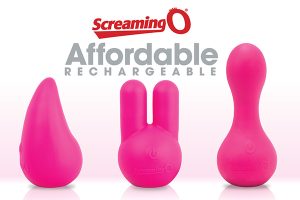 Los Angeles, CA — The Screaming O team is excited to debut a new range of products at the Adult Novelty Manufacturers Expo (ANME).
As a part of the company's mission to offer luxury quality at an accessible price, the upcoming launches will deliver exceptional value for the consumers and consistent profits for every step of the supply chain. These savings are made possible through smart design and careful manufacturing, as well as listening to — and learning from — distributors, retailers and consumers themselves.
In an effort to streamline some of the most popular Screaming O products, the company has pioneered a remote that can toggle forwards or back through different modes.
"Consumers tend to prefer vibrators with a variety of levels and functions," a company representative noted. "But so often, one accidental touch of a button moves you away from the rhythm that rocks you.
"What's great about our new remote products is that you don't have to cycle back through every mode in order to find the your perfect power level — because you can toggle immediately back to it."
The toggling function will be available with the new Charged Positive Remote, a sleek rechargeable vibrating bullet featuring the company's most powerful Positive motor. The move Remote, a rechargeable rounded-head vibrator with a flexible neck, will be upgraded with a toggling remote as well.
Also making their debut are two innovative toys designed with customer feedback in mind. The Rechargeable toone is a dual-motor vibrator with flexible rumbling "ears" that rumble continuously or in pulsing rhythm to titillate the clitoris. Some customers have shared that interruption between pulses can make it harder to climax, so the Screaming O team developed the toone's two motors to pass the vibration back and forth, allowing the sensation of continuous vibration to come from two distinct points of contact. Another inventive new product, the Rechargeable scoop addresses the demand for a more contoured vibrator with increased surface area, creating an intense physical sensation.
The company has also elevated two of their best-selling products to include Affordable Rechargeable technology, developed ground-up by Screaming O to include a secure USB cable and a temperature-stable Lithium polymer battery that holds more than 60 minutes of vibration per charge.  Two additions to the Rechargeable line will debut at ANME: the Charged You-Turn Plus is a versatile vibrating ring and finger-vibe, and the Charged Big O Ring is a rechargeable edition of the fan-favorite vibrating ring, designed for mutual pleasure.
Rounding out the line is the Dynamo Delay Black Label Edition, a deluxe desensitizing formula that features the highest concentration of lidocaine available per spray in an over-the-counter product. Designed to extend performance and prolong ejaculation, Dynamo Delay Black can help ensure that intercourse is long-lasting and mutually satisfying.
Learn more at ScreamingO.com.