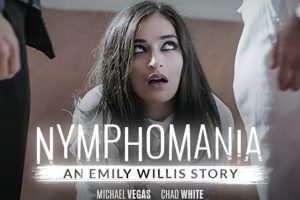 Montreal, QC — Pure Taboo is pleased to present Nymphomania: An Emily Willis Story, available now via PureTaboo.com.
In Nymphomania,Willis plays Katherine, a young woman confined by the walls of a gloomy mental hospital. Katherine is at the mercy of her compulsive sexual desires — as well as the desires of a sadistic orderly (Chad White) and an unethical psychiatrist (Michael Vegas).
In typical Pure Taboo fashion, the plot blurs lines related to power dynamics and health-related ethical themes. Put simply: It's not okay for doctors and health professionals to prey upon patients — but this is a taboo fantasy, so conventional rules don't apply.
Willis collaborated on the storyline with Gamma producer Bree Mills, who saw a great opportunity for the star to spotlight not just her acting talents but her creative writing in this scene.
"Emily took the opportunity to reach into the anxiety, confusion and frustration of the character, and she did a brilliant job," said Mills.
Willis added, "I was beyond thrilled to get to collaborate, and I'm soooo excited for everyone to see this… It's a good blend of storytelling — sexy, pure taboo and a little twisted."
"Nymphomania has always been so intriguing to me – a true fantasy that I wanted to live out by telling this story. I really wanted to showcase Katherine's character and show her sexual frustrations and these limitations that are put on her, which I think symbolize on a lot of women's sexuality," Willis continued.
Willis made her Pure Taboo model debut in last year's Uncle Charming, followed by leading roles in Daughter Slut Shaming, Future Darkly: The Love Hotel and The Date. She's also a fan favorite at Gamma's lesbian fantasy studio and site Girlsway.com.
"Bree and the Pure Taboo team were amazing as always, and they really helped me bring this to life and dig deeper for that character," said Willis. "I really want to thank Bree Mills and the entire crew for letting me get creative – and the amazing opportunity!"
Find the trailer and full scene at Puretaboo.com/Nymphomania-An-Emily-Willis-Story. Go to PureTaboo.com's official cast page to find out more about Nymphomania star Emily Willis.