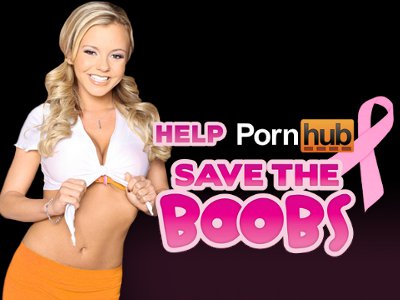 By Erika Icon
YNOT – Despite a very pointed snub by intended beneficiary the Susan G. Komen for the Cure foundation, adult tube site Pornhub intends to continue raising funds for breast cancer research.

On Friday, the Komen foundation rejected Pornhub.com's plan to donate one penny for every 30 views of any video in the tube site's "Small Tits" and "Big Tits" categories during October.
"Susan G. Komen for the Cure is not a partner of Pornhub.com," the foundation noted in an official statement. "We will not accept donations from this organization and have asked them to stop using our name."
Realizing porn fans are quite fond of breasts, Pornhub merely flexed its figurative pectorals and changed course. The website, owned and operated by Manwin, receives considerable traffic daily. According to a spokesperson, that traffic resulted in enough boob video views during the first five days of the month to generate a $25,000 donation. Now Pornhub simply needs to find a worthy breast cancer-related charity to which to give the money.
"Unfortunately, we have had to change our targeted beneficiary," a spokesperson said. "As such, Pornhub.com is now calling on all breast cancer foundations to come forward and be considered as the recipient of this cash donation. Don't be afraid to step up and let your voices be heard."
Charities promoting breast cancer research or awareness may [email=austin@phubcommunications.com]email Pornhub[/email] with their requests to be considered. One charity will be chosen to receive the entire contribution at the end of the month.
Fans may get involved by visiting a special landing page and following the prompt, or simply visiting Pornhub.com and viewing videos in the "Small Tits" and/or "Big Tits" categories. Content owners may participate — and earn traffic — by branding their own videos in the "Tits" categories as part of the site's Content Partner Program.
The October Save the Boobs fundraising campaign is part of an ongoing effort for Pornhub. Six months ago, the site partnered with performer Bree Olson to take a Save the Boobs bus to New York City, where the team raised awareness and offered free breast exams.