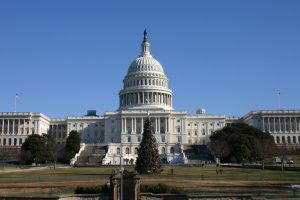 WASHINGTON – Even if the Kansas City Royals don't think so, porn is American as mom MILFs, baseball, apple pie and ineffective federal regulations.
Just ask some of the federal employees who are subject to a prohibition on porn in the workplace – a prohibition to which some of them reportedly aren't paying much attention.
The Capitol Hill news outlet Roll Call reports it was "able to identify 69 cases of federal employees or others using federal networks to access pornography since Congress began rolling out the ban in November 2011. At least 27 occurred at departments where the rule was already in place."
69 cases, eh? Well, there's a poetic coincidence if ever I've heard one.
As Rep. Walter Jones (R-NC) sees it, the problem here is a lack of Congressional follow-through on the rules established in 2011, rules which he wants to see expanded to cover additional agencies, then acted upon by those who oversee the agencies.
"Too many times, when things are done that are the right bills or laws, if you don't follow back up, you don't know for sure if it's been implemented," Jones said.
In January, Jones sent a letter to Office of Management and Budget Director Mick Mulvaney (R-SC) and another, similar letter to House Appropriations Committee Chairman Rodney Frelinghuysen (R-NJ), asking for further action.
In the letters, Jones exhibited great pride in having crafted the following language to insert into future appropriations bills: "None of the funds made available in this Act may be used to establish a computer network unless such network blocks the viewing, downloading and exchanging of pornography."
In his letter to Mulvaney, Jones asked for "any update you could provide on implementation of this language across all applicable branches of the federal government." In the letter to Frelinghuysen, Jones wrote to "respectfully encourage you to insist that this language be included again for all departments and agencies across the federal government."
Just to make sure everyone would know he's serious, Jones also put out a press release marking the illustrious occasion of sending two letters to colleagues about porn.
"Unfortunately, this is a government-wide problem that must be stopped," presumably referring to watching porn, not sending letters. "No federal employee should be surfing porn on the taxpayers' dime."
I dunno, maybe it's just me, but 69 cases of federal employees watching porn at work over a period of over six years doesn't sound that bad, especially considering there are roughly 2.2 million people working for the federal government – a figure that doesn't include the U.S. Postal Service, which employs another 640,000 or so, on its own.
Then again, if I was one of the people responsible for running the National Oceanic and Atmospheric Administration, I probably wouldn't be too happy to learn that one of my employees had downloaded "14 adult pornographic video files, 92 adult pornographic images, and 3 unauthorized computer programs" after being told to knock off that shit.
And sure, I'd also be a bit miffed if I were the head of the National Archives and Records Administration and I found out some schmuck in my employ had admitted to spending "approximately 90 minutes each working day" looking at porn and "escort-related services" – unless, of course, those escort-related services were in the possession of important national records we needed to archive, like documentation of transactions involving escorts and Congressmen.
Still, if I were making a list of things I wish federal employees wouldn't do, it would probably start with assaulting and raping people, or stealing people's identities to facilitate filing false tax returns in their names, rather than watching porn or, say, liking the wrong tweet.
To be fair, sometimes federal employees are the victim of poor leadership, or perpetual interim leadership, or no leadership at all, so it's no wonder they might occasionally turn to watching porn, or browsing social media, or engaging in identity theft for profit, or seeking some other form of entertainment, just to keep themselves looking busy behind their desks.
I suppose fixing leadership problems is harder than installing content filters on a computer network though – and a demand for better leadership in government might sound a tad rude in the context of a letter to the chairman of a Congressional committee.