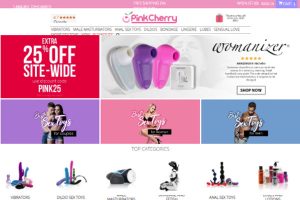 TORONTO – Adult novelty products and lingerie distributor PinkCherry announced today that it has moved its website to the cloud-based platform Shopify and re-launched the site with "a whole new look."
In a statement announcing the move, PinkCherry described Shopify as a "secure and flexible e-commerce engine" which "adds functionality and simplifies frontend processes while maintaining robust integration with the backend system."
The company said the move to Shopify enables PinkCherry to create a "seamless experience for online shoppers" that enables the company to easily add and maintain features like loyalty points, wish lists and discount codes.
PinkCherry CEO Daniel Freedman said that switching to what is reportedly among the fastest growing e-commerce platforms available is "one of a few strategic investments that the business carried out in 2018 to support its expansion."
"We have created a strategic marketing leadership role and transitioned to a best-in-class email marketing tool earlier this year," Freedman said. "Same as PinkCherry, Shopify is a young, dynamic, and entrepreneurial company, and this creates a great cultural match."
Freedman added that the platform also gives the company's designers and web developers "more say in changing the website and continuously improving PinkCherry customers' experience."
"What we are aiming for is a mobile-first design that is also modern and intuitive," Freedman said. "Our website is now rocking a whole new look, and sex toys have never looked so delightful!"
The re-launched site also now includes a custom shipping module which allows PinkCherry customers to choose between several different shipping options to determine how quickly they want their orders to arrive. The cloud-based nature of Shopify also contributes to greater stability and responsiveness for the website, the company added.
Lana Grypych, Director of Marketing for PinkCherry, said the company isn't going to "rest on our laurels just yet."
"In the immediate future PinkCherry.com will be introducing a new blog with informative, engaging articles on a variety of sex toy related topics," Grypych said. "The blog is to become a comprehensive source of awareness and education on the role of pleasure products for sex positivity, sexual happiness, and inclusiveness."
For more information, please visit www.pinkcherry.com