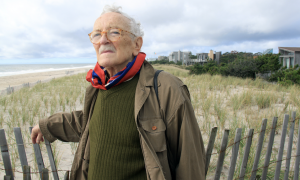 SAN FRANCISCO, CA — NakedSword Film Works (NSFW) is happy to announce the addition of Ethan Reid's acclaimed documentary, PETER DE ROME: GRANDFATHER OF GAY PORN, to the NakedSword library. This is the story of an unassuming English man who had a unique way of taking people into his own fantasy world and who widely became known as 'The Grandfather of Gay Porn'. Without De Rome's influence many modern day porn studios as we know them simply might not exist. De Rome was inspired by Hollywood movies and was known for the cinematic quality and story driven plots of his films. He captivated the viewers not only by the beauty of the models but of the story telling itself.
The documentary beautifully recounts the porn pioneer's life through his start in the early '60s, which included him filming friends and random hook-ups, to the 70s when he shot his first real gay porn film. The documentary features interviews with De Rome himself (retired and living his life in a small english town at the time) as well as Director Kristen Bjorn, Wakefield Poole, porn star Jake Genesis and many more.
For gay porn fans and history buffs this is the perfect follow-up to SEED MONEY, released last month on NakedSword, which profiled Falcon founder Chuck Holmes. Unlike SEED MONEY, the Peter De Rome documentary showcases the early days before gay porn was an industry and before it became more mainstream. De Rome, who preferred to be called "The Grand Daddy of Gay Porn' started shooting gay porn when it was illegal to even have gay sex and his work went on to inspire a generation of gay adult film. His own work ultimately went on to be accepted into The British Film Institute for its cultural impact.
In honor of PETER DE ROME: GRANDFATHER OF GAY PORN being added to the NakedSword Film Works library, NakedSword is also adding two of De Rome's legendary films ADAM & YVES which was released in 1974 and THE DESTROYING ANGEL, released in 1976. These movies and the documentary give gay porn aficionados a glimpse into a central figure of the industry that helped change cultural norms about gay sex and gay adult film.
Tim Valenti, President of Falcon Studios and The NakedSword Network says, "I'm happy we have this film in the NakedSword Film Works library because I think it's so important, now more than ever, to be conscious of the fact that we were not always afforded the freedoms we have now. Peter De Rome was a pioneer and trailblazer in our industry and we all owe him a debt of gratitude."
Don't miss this one-of-kind documentary now playing on the Netflix of Gay Porn, NakedSword.com.