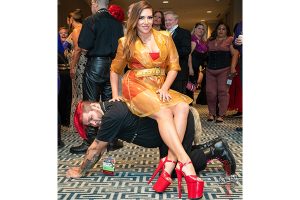 New Orleans, LA – DomCon New Orleans 2018, the professional and lifestyle domination convention held recently from October 4 through 7, exceeded last year's attendance and was a great success. The crowd was filled with BDSM enthusiasts, professional dominants and submissives, sex educators and those curious about the kinky lifestyle.
In case you've never been, there is no place on earth like New Orleans. It is infused with culture and history unlike any other city in the U.S., setting DomCon NOLA apart from DomCon Los Angeles and other kinky events. Guests and staff were surrounded by beautiful scenery, decadent food and wild parties in a city that lives for pleasure — a very different vibe than you will find anywhere else.
"My favorite highlight of this was the parade," said Domina Mara from Only Fans and C4S in a video review on YouTube. "Goddess Phoenix and Simone Justice worked with the city to close parts of the street and make a square around the French Quarter with all of us in our kinky attire. It was such an energetic experience."
While demonstrations in the vendor area and workshops on BDSM were popular, quite a few dommes were in love with the location and made this a part of their online experience. Making their presence known at the expo included Alice of AliceInBondageland.com, Miss Crimson Rush from iWantClips.com, Goddess Samantha from Clips4Sale.com, and of course dozens of Dommes had to get their pictures taken while partying at the Whiplr.com lounge.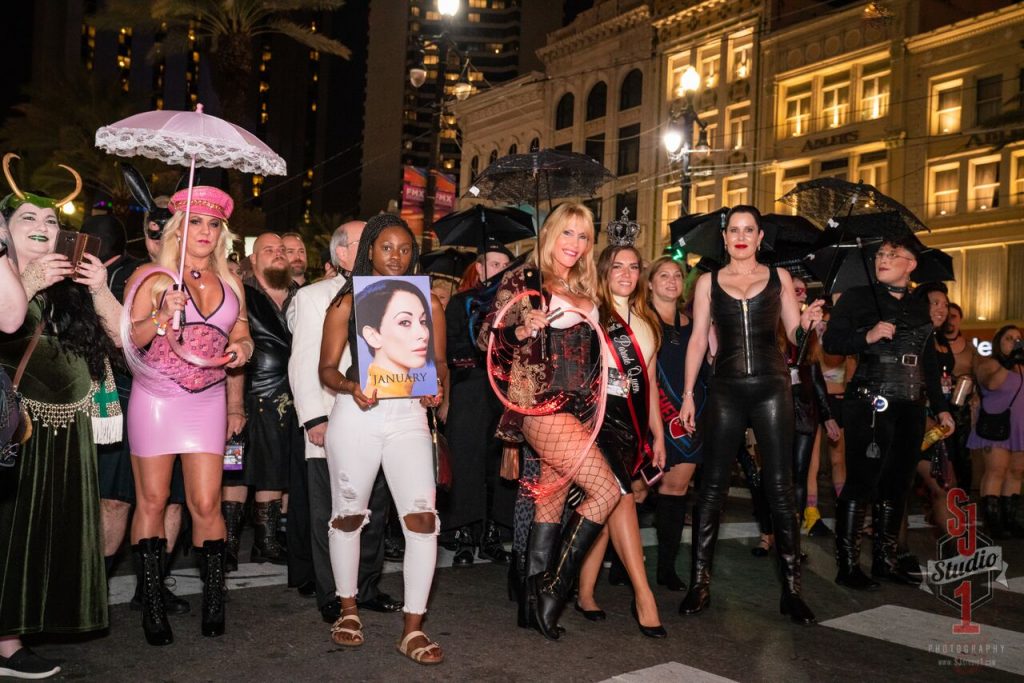 A fun online interactive twist happened when Miss Elena De Luca was named DomCon Parade Queen while taking a call on NightFlirt just outside the opening ceremonies party. Mike, her call-in slave, got to listen to the crowd cheering as De Luca was adorned with the official sash and crowned — talk about a premium interaction!
"Thank you so much to our Mistresses of Ceremonies, Guests of Honor, our Board of Directors, hard working staff and — of course — all our guests for making DomCon New Orleans 2018 one of the best ever," said Mistress Cyan, DomCon's Founder and Executive Producer.
Cyan also extended kind thanks to event sponsors, including Whiplr and Sybian, and vendors including Whipping Stripes, Leather by Danny and Whispers of Fire — some of who traveled long distances to participate in the event.
The overall takeaway from DomCon New Orleans was a combination of community and kindness. As Lady Olivia Fyre tweeted, "One thing about DomCon that made a huge impression on me is how nice everyone was. It was a great reminder that you don't have to be mean, condescending or passive aggressive to prove you're 'dominant'. Kindness shows strength & self-confidence."
Awesome.
One thing about DomCon that made a huge impression on me is how nice everyone was. It was a great reminder that you don't have to be mean, condescending or passive aggressive to prove you're "dominant". Kindness shows strength & self-confidence.

— 🦉Lady Olivia Fyre🦉 (@LadyOFyre) October 10, 2018